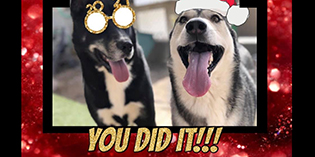 A HUGE NMDOG Paws High of appreciation to our 2020 Year End Secret Santa. They pledged to match all donations made to NMDOG before midnight on 12/31/20, dollar for dollar, up to $10K! So incredibly generous and amazing! Mind. Blown.
Well… the Year-End NMDOG Facebook Match Fundraiser raised $4360! AND… over $5000 was received in the form of check donations and via PayPal!!!! WhooHooo! This means that the entire $10,000 will be matched!!
This is an incredible accomplishment and an AMAZING way to begin the brand new year as we head into the second decade of our service to the Forgotten Dogs of New Mexico!
So much gratitude to each of you that helped us achieve this milestone and all of our thanks!! We cannot even begin to express how incredibly important each and every one of you are to the success of these Dogs. NMDOG Village: THANK YOU!!