Media Archive
September 25, 2013 | Bernalillo County Cracking Down on Animal Cruelty | KOB Channel 4

BERNALILLO COUNTY – Now, Figgy can race down the sidewalk in what caretakers call his "turbo cart." But months ago, he was in much different condition. He was rescued after being chained, which led to severe injuries.
---
July 25 2013 | KRQE 13
Newborn Puppies Saved at Intersection
ALBUQUERQUE (KRQE) – A retired animal control officer spotted the three newborn pups in a dirty dog bed at Bridge and La Vega late Thursday morning.
"Which at that time of day can be a relatively busy road. The fact that they're alive right now is a miracle in and of itself," said Matt Pepper of Bernalillo County Animal Care Services.
The pups are just a day or two old and appear healthy. It's too early to tell their breed.
A rescue group called New Mexico Dogs Deserve Better has them, but the dogs will eventually be adopted out.
Newborn puppies saved at intersection
---
July 24 2013 | Univision
"Un hogar permanente"
---
May 27 2013 | KOAT 7
"Pet Supplies for Oklahoma" by Laura Thoren
---
May 5 2013 | KOAT 7
"Two Dogs Shot in the Face at Point-Blank Range" by Anna Velasquez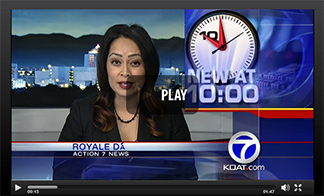 ---
January 5, 2013 | Valencia County News Bulletin
"Dog Rescue Helps with Local Problem" by Deborah Fox
NMDOG, a nonprofit charity to promote animal welfare in the state, began visits to Valencia County last month.
Volunteers of the organization travel all over the state, educating people about animal care, advocating for dogs and providing immediate provisions. Read more…
---
January 3 2013 | KOAT 7
With temperatures dipping well below freezing, pet experts say people aren't the only ones who need to bundle up. If a pet isn't allowed to warm up inside the home, animal safety advocates say it's best to have a shelter with a little something extra added.
>> VIDEO: Cold weather poses threat to outdoor pets — What pet owners should do to keep them safe
---
December 20 2012 | Artesia Cracks Down on Animal Abuse | KKOB 4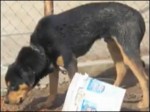 Artesia Police arrested 18-year-old Samantha Delgado and charged her with animal cruelty, citing actions they say broke both city ordinances and state law. Read full story.
---
December 9 2012 | Chained Dog Ordinance | KOAT 7

RIO RANCHO – Anti-chaining laws are popping up all over New Mexico, and one Rio Rancho dog (Shiloh!!!) is now becoming the face of why these ordinances are so important…. Go Angela!
---
November 25 2012 | Abused Dog Searches for Fresh Start | KRQE 13

ALBUQUERQUE – Ozzy, an Australian Shepard/Collie mix was found barely alive, chained up for weeks and suffering from a severe head injury, but now he has a chance at a fresh start.
---
September 29 2012 | Dog Chain Law | KOAT 7

It's the law, but a lot of dog owners are not obeying it. They are still tying up their pets, leaving them in the backyard unattended. New at 10:00 Action 7 News reporter Liz McKernan explains why one rescue group is working to stop it. "Meet three-year old Mikey. Before non-profit rescue group New Mexico Dogs Deserve Better bought him on Craigslist, this was his life."
---
July 30 2012 | Activists Fight to Unchain Dogs | KRQE 13

ALBUQUERQUE – Authorities rescued a child and family dog from a home said to be in deplorable condition. It's a case that without the help of some very caring people could have had a very unhappy ending.
---
May 7 2012 | The New Sheriff in Town | New Mexico Style, CASA FOX 2

Nikki and Kristen are joined by Angela Stell, of NMDOG, Lieutenant Andi Taylor, from the Sheriff's Department, and "Sheriff," who has become the poster dog against animal cruelty. They talk about the county's animal cruelty task force and share details on how to get involved with their fund-raising efforts to pay for Sheriff's $4,000 Vet bill.