Alfie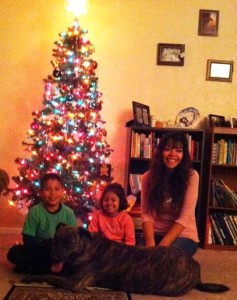 HAPPINESS to those that mean the the most….& here at NMDOG, that means the DOGS & the humans that love them!! NMDOG Village, meet ALFIE…
Nearly 5 years ago…ALFIE was a pup of a chained mama dog in Springer, NM. He had five brothers & sisters as well. I first met ALFIE when I worked as the kennel & outreach manager for another rescue in Northern NM….this was one of the many calls I received on a daily basis & I remember it well. "My dog had puppies…can you come get them?" "Sure, I will be over right away.' Upon arrival I was met by a man who took me round back where I first laid eyes on "Felony", a chained mama Pittie & her six 6wk old pups, all running around, getting tangled in the chain & dangerously close to mama's food. (pups of a chained mama face many, many dangers….& getting too close to mama's food is just one of them. We have taken many pups who suffered the fate of that innocent mistake, often times enduring severe bites to the head & face!) I spent a good hour with this man, talking to him about the dangers of chaining & the importance of spay & neuter. At the end of my visit, I left with all 6 pups & an owner surrender form which stated as part of the agreement, he would allow us to spay Felony & get her off the chain. We did return to take Felony in for a spay & worked with the man to build her a chain free enclosure. Since this rescue closed their doors nearly 3 years ago…I have had no update on Felony, but I think of her often (as I do so many that I have met) & hope that she is doing well. At least I know that she will not bring anymore "unwanted" puppies into the world!
Soon after taking custody of the pups, they broke with Parvo…we did all we could & rushed them to an Evet in Albq 4 hours away, as their illness fell on a Holiday weekend….Thanksgiving I do believe. They spent the weekend under intensive supportive care, but nonetheless, we lost 3 of them 🙁 ALFIE & his 2 surviving brothers returned north to the rescue to continue their healing & quarantine period. (Parvo can still be spread from a treated puppy for up to 60 days, due to the "shedding" of the virus & all pups should be quarantined accordingly to prevent contaminating others in a population or unvaccinated pups they might come into contact with in the real world). By the time ALFIE & his brothers were ready for adoption…they were now appx 5 months old.
They accompanied me to a Spring adoption event at Petco in Santa Fe & all 3 pups were adopted to approved families…off to begin their own brand new lives! The rescue closed later that year (a VERY SAD & stressful time for all of us there that worked so hard for the dogs in our care) & we managed to get all remaining dogs to other approved rescues, where they would find their best chances of a good outcome. I still think about so many of them every single day….those DOGS will always have my heart!! & in the magical way the Universe works…I have actually had the pleasure of running into some of them since….& yes, they remembered me….RESCUE DOGS ALWAYS REMEMBER!!
Fast forward to November 2012. I received a call from the Torrance County Sheriff's Department to assist on the execution of a search warrant on the property of the now nationally known, "NM Dog Napper" (I am sure you have seem the news stories). I was asked to assist in handling the dogs on the property for microchip scans & ID'ing them against numerous stolen dog reports. We arrived on the property to begin our work on the 16 dogs being housed there. We scanned, assessed & took pics of all dogs, then followed up in our attempt to confirm "ownership" to the property owners. All dogs but one were chipped & registered to the suspect…a large, brindle, very fearful & unsocialized boy by the name of ALFIE. I did not recognize ALFIE during the seizure, as he was now a 5 year old adult dog….a DOG that had been stolen from his FAMILY nearly 2 years ago 🙁 But I knew the name & I knew who he was the second I got chip information which was still registered to his original rescue, adopters & had MY name on it as the 911 contact person. This was my boy, ALFIE….the pup that I "Unchained" so many years prior & placed lovingly into a home that was to protect him for the rest of his days!! HOW could this happen, I asked myself!! I immediately contacted ALIFES adopters & introduced myself as "Angela from NMDOG", telling them of the events that had just unfolded….waiting for their reaction. There was disbelief, tears & TONS of questions….pieces of the puzzle that needed to be filled in (on both sides!) Once I got the confirmation I needed & a copy of the original theft report, I called in the big guns of BSCO & we returned to take immediate custody of ALFIE. Upon arrival to the suspects property & in defiance of being "found out"…the property owners let ALFIE loose into the forest 🙁 My heart absolutely sank…..after spending the past 2 years in a secluded pen with little to no human interaction….ALFIE would be a very hard dog to capture. But thanks to the dedication of deputies & BCACS officers, WE GOT HIM & he came directly to me (per his legal guardians). It was agreed that NMDOG would take custody of ALFIE in order to assess him, determine his needs in order to be reunited with his FAMILY & to provide him the behavioral rehabilitation he would require to once again become a safe dog for the children in his HOME!!
Ahhhh…..the CHILDREN in his home. About a year after adopting ALFIE, his family fell on hard times. They lost their home & had to move into an apt in Albq. They sent ALFIE to live with the in laws on the other side of the mountain. They visited ALFIE of the weekends & looked forward to the day when they would have a new house & could once again bring ALFIE HOME. Without going into the details that could potentially damage any ongoing investigation & pending charges….we'll just leave it at…."ALFIE WAS STOLEN & was never heard from or seen again". Posters went up in the area, a police report was filed…but after months of hoping he would be recovered, that hope turned into grief for the loss of their pet. The children continued to ask about ALFIE almost every day…still BELIEVING that one day, ALFIE would come HOME!! So much so, that this family never even considered adopting a new dog to "replace him". They began building their new life, purchased a new home in the Alb area & Dad went back to school to get his nursing degree. They had a nice, beautiful yard….but no dog..
ALFIE came to us here at NMDOG scared, no…terrified of everyone & everything. He was not able to walk on a leash anymore, & had no interest in toys or playing ball as he had with his kids before he was stolen 🙁 He was overweight from sitting sedentary in his run for those 2 years & displayed a considerable amount of fear aggression at the time of his seizure. It was going to take FIERCE DETERMINATION to get ALFIE back to a place where I felt comfortable placing hm in a home environment with kids….for the safety of all involved, especially ALFIES. But….if you know anything about NMDOG, you know that FIERCE DETERMINATION is our "middle name"…so I prepped myself for the challenge. I worked with ALFIE daily for 6 wks & his family came to visit him often during the rehabilitation process. Little by little, we began to see substantial improvement in his behavior. I became ALFIES "safe anchor" in the world & he learned to trust me completely….it was my hope that this trust would be transferred to his humans. We spent many hours, many exercises in patience & understanding with the children (who were struggling with the understanding that ALFIE was not the same dog they used to know & that he needed a lot of "space" if he were to come even close to being "that dog" once again!) I just want to say how PROUD I am of ALFIES family….to each of them for their dedication, compassion & commitment to doing whatever it took to get ALFIE home! They followed instructions to the tee…they did ALL that was asked of them & more, they came to visit & work with him regularly & they taught their children well 🙂 To them….from the BOTTOM of my heart…I am grateful!! It is rare for me to see this sort of determination outside of my "rescue circle" & that alone made up part of my motivation to make ALFIE "whole again"!! They gave to me, as much as I have given to them….they have given me HOPE in people, something I struggle with daily. In return…I gave them their DOG back 🙂 ALFIE IS HOME NOW….where he belongs!! He is doing VERY well, although it will take some time for him to feel completely comfortable being part of a FAMILY again….we are well on our way!!
After "play dates" with ALFIE in his home with other NMDOG dogs accompanying him to make him feel more at ease….it was a JOYOUS occasion for me to be able to bring ALFIE HOME FOR GOOD….to stay, once again where he belongs…with HIS FAMILY!! The family that never lost hope, never gave up, never forgot ALFIE & never replaced him with another dog. I will never, for the rest of my days, forget as I was leaving their home that JOYOUS day (it beings tears to my eyes even now, as I type)….as I was standing up to leave, the little boy came over, hugged my waist & said "Thank you for bringing my TIGER DOG home for Christmas. This is the best Christmas present I have ever gotten, ever!". Oh my!! How does one even top that??? To this day, my experience with ALFIE & his family has been one of the most rewarding experiences I have been honored to have!!
MERRY CHRISTMAS TO ALFIE & HIS WONDERFUL FAMILY…..you are HOME, my sweet, sweet boy!! HOME WHERE YOU BELONG!! & now that ALFIE is officially an NMDOG Dog…he will always have us to back him!! The Universe will always place you right where you are meant to be, to do just what you are meant to do…if you just allow yourself to be open. I was supposed to be there again for ALIFE…so thankful to be part of this amazing Universe!! So stick that in your Christmas pipe & smoke it!! WOOT WOOT!!!