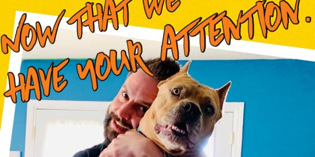 IMPORTANT INFO for all NMDOG Adopters, Fosters, and Home Sanctuary Care Providers, PLEASE READ…..

In light of the COVID-19 pandemic, I just want to put a few things out there:
First & foremost – we are in a particularly good situation overall, and, for this, we feel extremely fortunate. NMDOG HQ is a private residential "facility" at an unpublished location with a small number of authorized people coming and going. The chance of cross contamination at HQ is very slim (we think). We have implemented a new disinfecting protocol for humans entering the property. We began preparations 3 weeks ago, so we have a sufficient stock of cleaning supplies, paper products, dog food, treats, all medications/monthly preventatives, etc. As long as we are able to restock in a few months, none of our kiddos will go without ~ this includes all NMDOGS at HQ, in boarding, in Foster homes, in Home Sanctuary homes, and in Forever homes.
Announcements:
NMDOG training class status and schedule TBA.
NMDOG will not be participating in any off site events for the time being.
Individual meet & greets for potential placement of our dogs will continue as normal.
While there is no evidence, to date, that pets can spread COVID-19, please visit www.cdc.gov for the latest information about COVID-19 and pets.
Secondly – if ANY of our NMDOG Alum families find themselves in need during these uncertain economic times….WE ARE HERE FOR YOU! Please reach out to me directly – Angela@nmdog.org (you should all have my cell #). We can and will help you with any of the above (dogfood, meds/preventatives, supplies, etc). This is part of the lifelong commitment we make to each of you and our dogs.
Thirdly – if ANY of our NMDOG care providers fall into the high risk groups and are nervous about leaving your homes for any reason, PLEASE LET ME KNOW! We will make a trip to the store for you, pick up personal meds, or anything else you need. We are here for you on a personal human level as well – you are our family and we care about your well being.
Lastly – at this time, we are only able to make this level of commitment to (current & Alum) NMDOGs and their families. But if you fall outside of this group and need help for your own pets, please contact me directly. We will do all we can to assist & find additional resources for you. In the meantime, just be smart and plan ahead. Maybe consider an extra 1-2 mos of the food, meds and other things your pets need, so you have those on hand should distribution / shipping get backed up.
MOST IMPORTANTLY, please do not panic folks. Yes, these are very uneasy and uncertain times. It is completely realistic that everyone will be nervous and concerned. At NMDOG, one of our mottos is "hope for the best & plan for the worst" – this is especially true in times like these. Please include KINDNESS & CONSIDERATION FOR OTHERS in these plans. We are all in this together. Check in with those less fortunate or at risk. Be thoughtful of others in your purchases. Be part of the solution and limit your public interactions as much as possible and be smart during interactions.
Thank you to NMDOG supporters that have reached out to us to ensure we have what we need for the dogs and have offered your help. You never cease to amaze and humble me, #NMDOGvillage.