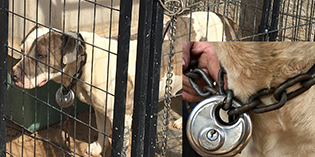 Today we received a call from a Good Samaritan with an urgent situation. They witnessed a dog HANGING on her chain over the wall of her kennel. Had they not intervened, this poor pup would have gone completely unnoticed, been left to dangle, mid air, until her last breath was snuffed out of her.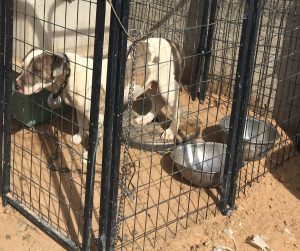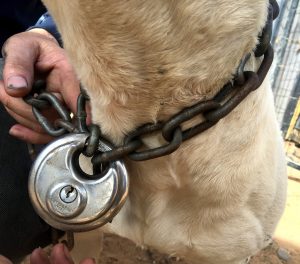 We contacted Sandoval County Animal Control with the Sheriff Department, and met them at the location. After a couple of hours on scene we were able to get a legal surrender, citations were issued, and a court date is pending. As soon as I was given the green light, I left with this sweet girl and we went straight to the clinic. She has been checked in, stabilized, and she is LUCKY! Without the swift action of her Guardian Angel, I am convinced she would have been dead in minutes.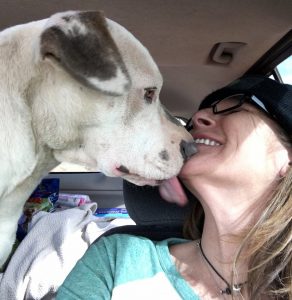 Her new name is Taffy, and she needs your help! Without NMDOGs intervention, I was told she would have had to stay on the property, and that was unacceptable. Please find it in your heart to make a tax deductible donation, which will enable us to provide all of the care she is in need of. Taffy will spend a few days at the clinic to ensure she is ok, and to enable us a little time to sort out the logistics. We are beyond capacity, and our vet bills are ridiculous. However, there is NO WAY, as long as I had a say in it, that she was going to stay there for even one more minute.
We are very grateful for the immediate and compassionate action of SCAC Officer Tafoya and to the passerby that didn't hesitate for a second to free this poor dog from impending disaster.


Please donate for NMDOG Taffy, because we literally cannot do this without you.