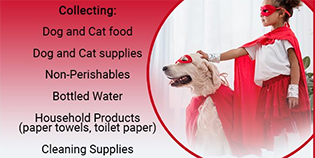 We are teaming up with our friends at Canine Country Club & Feline Inn – North Valley ABQ, Canine Country Club & Feline Inn – West Side ABQ, and the good folks at Rio Grande Food Project in an effort to provide much needed items to those in need.
RGFP will handle human distributions and NMDOG will be distributing the animal supplies to our rural Shelter and Animal Control partners to help supplement their food losses during this time.
***CURBSIDE DROP OFF AVAILABLE AT BOTH RESORTS!
***All items will be disinfected upon receipt, and again at each hand off. Please refer to flyer for more info.
***If you or someone you know needs personal delivery of goods, please call (505)886-1PAW and leave a message with details/contact info. We will do all we can to help!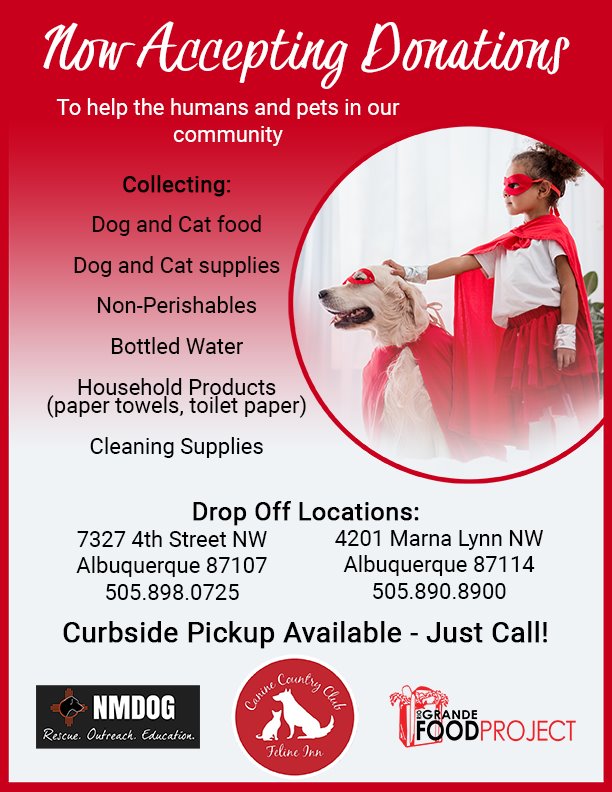 We understand these are difficult times for everyone and that some products are in short supply. Just, if you are able, please consider picking up an EXTRA bag of dogfood, an EXTRA tub of kitty litter or an EXTRA little something for a human while you are doing your own shopping. #WeAreAllinThisTogether Thank you, NMDOG Village and our treasured partners!