Please join us this Saturday at Eclectic Urban Pizzeria and Tap House for a very special event. A portion of all proceeds benefit NMDOG! Thank you to the organizers & Eclectic for the wonderful support of our mission. NMDOG will be there with goodies and adoptable dogs!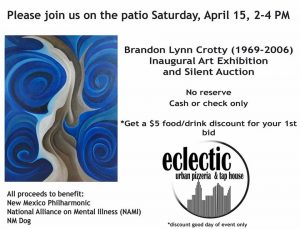 Artist Brandon Lynn Crotty passed away June 27, 2006. He was 36. At the time of his death, his studio overflowed with oils on canvas—experiments in abstraction, still life, and flowers—as he found his own personal rhythm in color and tone. A savant and perfectionist, Brandon felt no piece was ever "good enough," indeed few completed canvases were even signed by the artist. He never sold a painting in his lifetime, or held an exhibition.
On Saturday April 15, from 2-4 p.m., that changes. Brandon's final 14 pieces not in personal collections will find homes via silent auction (no reserve) at his inaugural opening. Please join us and be moved by his life's work in person. Proceeds from the silent auction (cash or checks only) will benefit: New Mexico Philharmonic, National Alliance for Mental Illness (NAMI) Albuquerque, and NMDOG!
Art Exhibit and Silent Auction
Please join us this Saturday at Eclectic Urban Pizzeria and Tap House for a very special event. A portion of all proceeds benefit NMDOG! Thank you to the organizers & Eclectic for the wonderful support[...]
&media=http://www.nmdog.org/wp-content/uploads/2017/04/Art.jpg" target="blank">Pinterest
×