When:
October 10, 2015 @ 1:00 pm – 4:00 pm
2015-10-10T13:00:00-06:00
2015-10-10T16:00:00-06:00
Where:
Mountain View Community Center
201 Prosperity Ave SE
Albuquerque, NM 87105
USA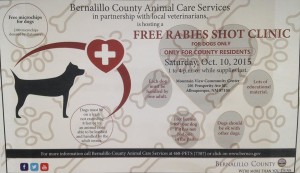 NMDOG will be participating at this Bernalillo County Animal Care Services (Friends of BCACS) FREE Rabies vaccination/county license/microchip clinic! Also receive info on our county animal ordinances, and the SNAP (low cost/free Spay & Neuter for Bernalillo County residents) program! NMDOG will be handing out FREE dog food, treats, leashes, collars, harnesses and more——along with tons of educational and anti-chaining material for dog guardians.
Note: BCACS is also in need of volunteers for this event, along with vets or vet techs that can donate their time. Please email mgoodman@bernco.gov to get signed up!
FREE Rabies Vaccination/County License/Microchip Clinic
NMDOG will be participating at this Bernalillo County Animal Care Services (Friends of BCACS) FREE Rabies vaccination/county license/microchip clinic! Also receive info on our county animal ordinances, and the SNAP (low cost/free Spay & Neuter[...]
&media=http://www.nmdog.org/wp-content/uploads/2015/10/BCACT-Shot-Clinic-Image.jpg" target="blank">Pinterest
×