The event was originally scheduled for February 11th–it has been rescheduled for February 18th!  
JOIN US for our annual LoVeFest Valentine's Day FUNdriaser and adoption event! NMDOG will have adoptable kiddos on site looking for the forever homes of their dreams, a yummy bake sale with both human and canine goodies, awesome raffle prizes, and the Junebug memorial kissing booth featuring AdoraBull, kissable NMDOGs. Kisses and photo ops with a donation. Members of the Bernalillo County Animal Cruelty Task Force will be on hand with NMDOGs featured in the 2017 NMDOG Calendar to sign your copy and take pics! Calendars and other NMDOG merchandise will be available for purchase at the event. We hope to see you there! WooF!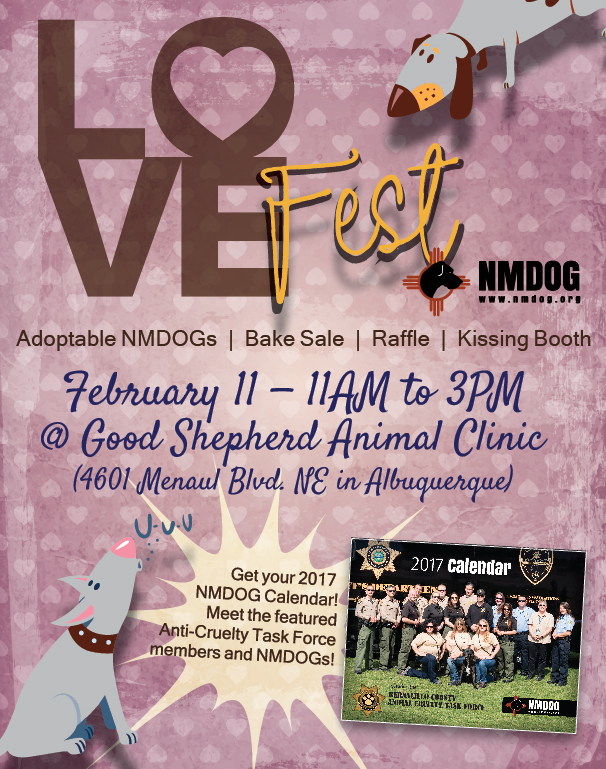 NMDOG LoveFest — Rescheduled!
The event was originally scheduled for February 11th–it has been rescheduled for February 18th!   JOIN US for our annual LoVeFest Valentine's Day FUNdriaser and adoption event! NMDOG will have adoptable kiddos on site looking[...]
&media=http://www.nmdog.org/wp-content/uploads/2017/02/NMDOG-Love-Fest-2017-JPG.jpg" target="blank">Pinterest
×