Gathering of Donations
NMDOG Collecting Supplies for Animal Victims of Oklahoma Tornadoes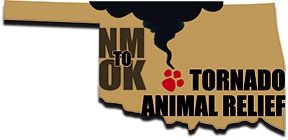 Too many victims to count…so much loss & devastation… There are many AMAZING volunteers & Rescue responders on the ground in the areas hardest hit…they are collecting the lost animals & taking them to designated intake facilities, providing 911 medical care & working day & night to reunite them with their families. They are in need of supplies to support their efforts!
That is where we come in, Village!! NMDOG is partnering with Bernalillo County Animal Services, Good Shepherd Animal Clinic & many local retailers to set up the following drop off locations and will be collecting the items listed below through Sunday May 27th. At that time, all donations will be picked up and taken to our central sorting location at Bernalillo County Animal Control Services where they will be loaded up and driven directly to be distributed to those that need them the most! The NMDOG donations truck will be leaving Albuquerque on Tuesday May 29th!!! Our paws are HIGH to our incredible Volunteer & member of the Village, Jami…for use of her truck & making the drive!!!
The Following Items are Needed the Most:
CRATES & PET CARRIERS- ALL SIZES Please have them cleaned & collapsed to allow as many as possible to be transported

BIRD CAGES – smaller cages are needed to house one bird at a time. Please have them cleaned prior to drop off

PET BEDS

BLANKETS/LARGE TOWELS

SLIP LEADS

WATER & FOOD BOWLS

HEATING PADS

MEDICAL SUPPLIES – gowns/latex gloves/syringes/gauze/vet wrap/ace bandages/IV fluids/saline/chlorahex/parvosol

KMR/ESBILAC

FEEDING SYRINGES/BOTTLES

FOOD FOR VARIOUS ANIMALS – dogs/cats/birds/pocket pets/hay/pellets

CHEWIES/TREATS & TOYS for a variety of animals

CAT LITTER/LITTER PANS

NEWSPAPER

PAPER TOWELS

BLEACH

OFFICE SUPPLIES – clip boards/pens/sharpies/sheet protectors/duck tape/zip ties

BOTTLED WATER

PEOPLE SNACKS for the hardworking volunteers working these heartbreaking trenches
Drop-Off Locations in Albuquerque and Rio Rancho:
BCACS (Bernalillo County Animal Care Services)
1136 Gatewood SW Albuquerque, NM 87105
505- 468-7387
Monday – Friday 8 a.m. – 4:30 p.m.
Good Shepherd Animal Clinic
4601 Menaul Blvd NE Albuquerque NM 87110
505-884-3200
Monday – Friday 7:30 – 6:00 pm
Close at NOON on Wednesday
Fiber Works Inc.
326 Paseo Del Norte Frontage Rd NE, Albuquerque, NM 87113
505-898-7411 – please call prior to drop off / hours vary
Pet Food Gone Wild
2415 Southern Blvd SE, Rio Rancho, NM.
505-994-0101
Mon – Fri: 10:00 am – 7:00 pm
Sat: 10:00 am – 6:00 pm
Sun: 11:00 am – 5:00 pm
Petroglyph Animal Hospital
6633 Caminito Coors NW, Albuquerque
505-898-8874
Mon – Fri 7am – 10pm
Sat & Sun 8am – midnight
Long Leash On Life
9800 Montgomery Blvd NE, Albuquerque, NM 87111
505-299-8800
Mon – Fri: 10-7
Sat – Sun: 10-6
Watermelon Mountain Ranch
3251 Westphalia Blvd NE, Rio Rancho, NM 87144
505-771-0140
Mon – Tue: CLOSED
Wed – Sun: 10:00 am – 4:00 pm
Drop-Off Location in Santa Fe:
Tullivers
807 Cerrillos Road Santa Fe NM 87505
505-992-3388
Mon – Fri: 9:30 am – 6:00 pm
Sat: 9:00 am – 5:00 pm
Sun: 11:00 am – 5:00 pm
Drop-Off Location in Los Alamos:
Pet Pangea
158 Central Park Square Los Alamos, NM 87544
505-661-1010
Monday – Thursday 9 AM – 7 PM
Friday – 9 AM – 7 PM
Saturday 9 AM – 6 PM
Sunday 11 AM – 6 PM
Let's all come together and make a real difference!