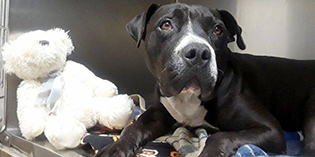 NMDOG Groovy was saved from her chain as part of our Bernalillo County Animal Cruelty Task Force mission. She was left to suffer for months, after an injury to her leg, and was not provided vet care. Groovy has now received the medical care she needed, a full TPLO procedure, and, thanks to a wonderful NMDOG post-op foster, Groovy has made a full recovery.
When duty calls, we jump into action, and more often than not, time doesn't allow for us to always post needs as they come in. Sometimes, due to the nature of our work, we rescue on a wing and a prayer! The dogs need us, we answer the call, daily responsibilities take over, and creating fundraisers often falls by the wayside. But we can't do what we do without your continued support. Please consider a tax-deductible donation to help us recoup the cost of Groovy's expensive surgery and ongoing care, so that we can continue to answer these emergency calls for help. Just click the "Donate" button in the right-hand margin.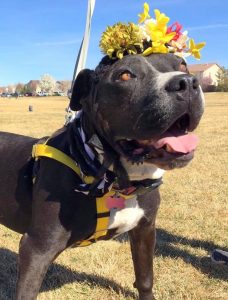 Groovy is an amazing dog, truly…one of a kind. She is great with other dogs, she loves children, and is friendly with everyone she meets. She is currently participating in **505 Pit Crew** with one of our treasured volunteers, learning to walk nicely on leash, as well as other awesome skills! If you are interested in giving Groovy the forever home of her dreams, or in becoming her treasured foster parent, submit an application.