Junebug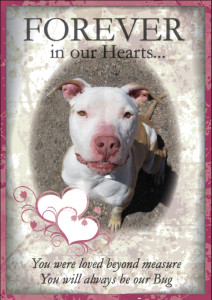 From Facebook, 08/13/2013
Tragedy has befallen our Village. I am frozen…still in shock. My heart…my soul, is heavy with grief. I am hardly able to put the words together. Please bear with me, as I am sure to stumble.
We have lost our beloved JUNEBUG.
I don't know whether to start from the beginning, telling her rescue story; in the middle, sharing how she touched all of our lives; or with the incredible heartbreak that is all consuming at this time.
Last night while playing outside with the other dogs at her Moms parents house, JUNEBUG went missing. A small search party was formed & not long after, she was found in the family pool, unresponsive to CPR. The BUG had been in an amazing foster to adopt home for nearly 3 mos & we were so excited that we would get to finalize & announce her adoption soon. This is what we have all hoped for since she joined the NMDOG pack in March of 2012!! Her entire FAMILY is devastated. We believe that during a robust play session (that was The BUG) she slipped & fell, hitting her head & causing her to go unconscious. (there was blood present from her mouth & nose that would support this theory) She fell into the pool. The pool did have a safety cover which was heavy in the middle due to the recent rainfall, resulting in intermittent gaps of appx 6″. I know this with all that I have…this entire family adored this Dog! Her Mom fell in love with her at BARKIN BAD & gave her a HOME. She did everything we asked during her extensive trial period & followed our intense "JUNEBUG rules" to prevent her escape without fail (a victory in itself). JUNEBUG adored her work from home Mom!! She was healthy, content & HAPPY!! I saw a lot of JUNEBUG & her Mom during their time together & knew our BUG better than anyone. I am grateful to JUNEBUGS Mom, Grandma, Grandpa, Uncle & Aunts for allowing her to be what she always wanted to be…."A regular ol' family Dog" with a home of her very own We will not tolerate any blameful or hurtful comments towards this family. This was a tragic & very unfortunate accident & we need to wrap our arms around them in consolation, because they are grieving with us. So many of you knew JUNEBUG. So many of you shared a piece of yourselves with her. She spent time with many special members of The Village & to all of us she was treasured. JUNEBUG was….This Village's Dog. I cannot tell you how it breaks my heart to bring you this horrible, shocking news…I am so sorry. I loved The BUG like she was one of my own, I kept a very "short leash" on her wherever she was…I did everything I knew how to keep her safe & still allow her to be her own Dog…as did her family She could be a challenge to say the least & humbly…it was my honor. JUNEBUG gave back to me in a way no other Dog ever has & like all Dogs, she taught me many things. We gave her a wonderful year & a half….& in the end, we kept out promise, because she was home.
We will be holding a memorial service for JUNEBUG in the coming week at Corrales Kennels, date & time TBA. We hope this will give you all a chance to honor her, grieve this terribly loss & heal. We need each other right now…I know I do.
I love you JUNEBUG RIP