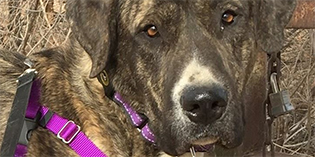 Skynard came to us from one of our ongoing Outreach locations as a result of our work on the Dog Head Fire in 2016 at a location we discovered during evacuations, with many dogs and a guardian that needed a little extra help. NMDOG has received multiple dogs into our program from this residence over the past 2 years, in an effort to improve the quality of their lives and assist their guardian in better caring for the dogs that still remain in their custody. This is the foundation of our Outreach work: sometimes our influence sticks, sometimes it doesn't and often times (such as in this case) it just takes persistence and time.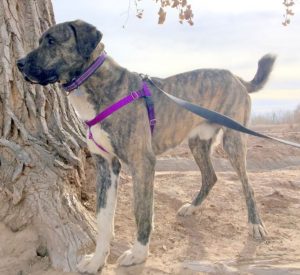 Skynard is a little over a year old, he was purchased from a breeding kennel in a southern state as a puppy and grew up in a very small pen, all alone, with very little human interaction, poor nutrition and no freedom to develop physically or emotionally. He is a wonderful mixed breed dog of the Kangal, Boerbel and Great Dane. But this breed combo, in addition to his environmental restrictions growing up, left him with some fairly severe orthopedic concerns.
Skynard was diagnosed with bilateral luxating patellas and will be undergoing surgery next week to repair the issues. Unfortunately, we won't know until the surgeon begins the procedure if Skynard will require one surgery or two. Each orthopedic procedure with hospitalization will cost NMDOG around $3500, and will require weeks of intensive post-op care and rehabilitation. But he is worth it 100% and this is what NMDOG does! We have pledged to provide Skynard with all of the medical and post op care that he will need—seeing him through to a full medical clearance and eventually, adoption into the forever home of his dreams!!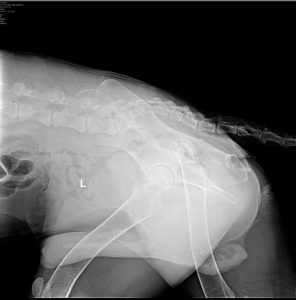 We are in need of donations to ensure we are able to provide this very deserving boy with all that he needs. All donations to NMDOG are tax deductible. We are also seeking an approved foster home where Skynard can continue to recover from his past, receive the post op care and physical rehabilitation he will need and attend follow up appointments with his surgeon. All expenses are covered by NMDOG and we are there with our foster guardians every step of the way to ensure everyone's happiness and success! A home with no other pets is desired at this time, to ensure Skynard makes a full recovery. Skynard will be able to romp and play with other dogs, as soon as he receives a full medical clearance to do so.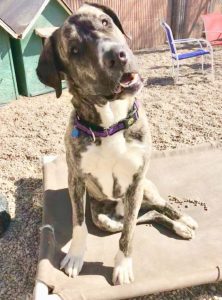 Skynard is a big giant puppy who loves to snuggle with his humans, act silly and play with his toys! Weighing in at around 125# – we believe he will top out at appx 150# when he is all grown up. We will always pay close attention that he does not end up on the chunky side, as a precautionary measure to alleviate unnecessary hardship on his knees. Skynard is a wonderful pup, a little bitty lovebug in a big giant puppy body. He has a huge heart and all of the love in the world to give.
Please submit a foster application for Skynard today.