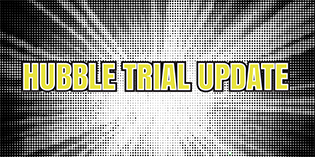 In short, the update is that there will be no justice for Hubble… All charges against both defendants related to Hubble's case, and the suffering, neglect, and abuse of his chain-mates Brooke, Frankie, Katie, Vanderbuilt and JJ have been dismissed (again); this time stating "Double Jeopardy." Apparently, this action took place on 3/15/15, yet we were not made aware until early Saturday morning by an NMDOG supporter who got the notice from a NMcourts website. We are still waiting for a reply from the District Attorney's office as to how we got here. I assure you, as soon as we receive more information, we will report back to you to try and make some sense of it all.
We are very sorry to have to make this announcement today, but as things now stand Hubble's abusers will not be punished for their alleged crime of extreme animal cruelty which ultimately lead to Hubble's death, nor for the alleged crimes of animal cruelty against his chain-mates. But the good news is that Hubble no longer suffers from the pain inflicted upon him, and that his body was finally laid to rest yesterday morning after 19 months spent in state custody as evidence. His spirit and his memory live on in our work every day. RIP Hubble. Custody of his chain-mates was awarded to the Animal Welfare Coalition of Northeastern New Mexico in a completely separate civil case. They were then legally transferred to us here at NMDOG and these people will never get their hands on them again. Though, there is nothing stopping them from acquiring new animals to abuse, torture and kill.
Village, we are #HUBBLEstrong and we will continue to work together with the AWC to assist in the implementation of proactive programs and law enforcement training in Las Vegas, NM #GroundZero to help ensure the mistakes made during this investigation and trial never happen again. How can we effect true change and protect our animals if there are no teeth in our laws, and no consequence for those who break them?
#NoJusticeForHUBBLE
It is truly a very sad day for animal welfare in the state of NM.
Read Hubble's Story.