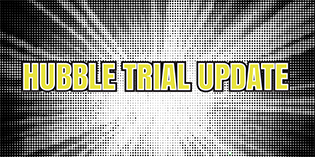 Well today was full of twists and turns at the Las Vegas, NM Magistrate courthouse! I will attempt to explain all developments with as much clarity as possible. It's a long story…so please bear with me and follow along closely. When we arrived, we were informed that the preliminary hearing scheduled for this morning was cancelled (?!?!)…but we decided to stick around anyway! Here is what we learned. Those accused in Hubble's felony animal cruelty case and the misdemeanor charges for his chain-mates (round two!) had warrants issued for their arrest as soon as those charges were filed (for the 2nd time!). Upon taking each defendant into custody, they fled and a chase by LVPD ensued. Both suspects were apprehended, while resisting…so that resulted in additional charges being added. Defendant #1 was taken into custody and is currently being held on a $30k cash only bond! Defendant #2 was taken into custody and is currently being held on a $21k cash only bond! Today was to be preliminary hearing(s) on all charges and their opportunity to answer to those charges. The preliminary hearing is also the time when the prosecution presents their evidence in hopes of proceeding to trial in District Court. All defendants are entitled to a public defender, should they request counsel and cannot afford to hire an attorney. Both defendants requested counsel, so the process of assigning a public defender to each began once they were arraigned. Of the 4 public defenders that were assigned, all 4 recused themselves from the case, stating "conflict of interest". This left both defendants without legal representation. Today at the last minute, a fill-in public defender was found for defendant #1 and they filed a motion for (another) hearing to determine competency. At that moment, defendant #1 was lead out of the courtroom and proceedings stopped. She (defendant #1) will now be evaluated by a state mental health professional to determine if she is competent to stand trial. I am not sure of the time limitations placed on this motion, but I think it has the potential to drag out for some time, if allowed. Defendant #2 is still without legal representation and the task of assigning a public defender that won't recuse themselves, continues. We are told this process will begin immediately. Once that is handled, the preliminary hearing for defendant #2 will commence. He remains in custody and did not appear in court today. Part of the issue here (as we are told) is that both defendants have been piling up additional criminal charges over the past few weeks, months (not related to Hubble's case), thus muddling the ability to secure a public defender willing or able to represent them without bias. As an observer…it is clear to me that these folks are very familiar with the ins and outs of the criminal justice system and will continue to manipulate it in their favor and delay the process of justice….for as long as they possibly can. This is an unfortunate dynamic, as it drags things out and takes up a lot of people's time, but we are not going anywhere. We will not tire or get bored. We will not forget and we have no intentions of "letting it go". We will always make time and rearrange our schedules and will continue to drop everything on a dime to drive to Las Vegas to support the prosecution of these "alleged" abusers, these "career criminals"….we are not going away. We have WAY more staying power than they could ever fathom = Fierce Determination and that shouldn't be underestimated. The DAs office has also ensured us that they have no intention of letting this go or of giving in. They have pledged to dig in their heels and see this to the end! For this, we are very, very grateful! So, for now we wait. We wait for defendant #2 to secure counsel and we wait for the results of the competency evaluation of defendant #1. In short, what we seem to be faced with here are 2 defendants that are very well versed in "working the system" and a system in place that, from the looks of things, continues to allow them to get away with it. It's time to put an end once and for all to these shenanigans and hold these people accountable for their "alleged" crimes against animals and their community. It is time that we see justice for Hubble and his chain-mates. It is time that they are never allowed to be in possession of, hurt, abuse or neglect another animal and it is time to raise the bar of accountability in Las Vegas, NM.
Thank you to our amazing Village for your continued support as we stand our ground in #GroundZero. We are #HUBBLEstrong.
Read Hubble's Story.