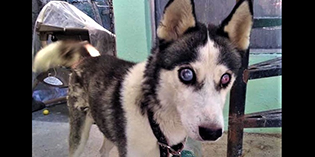 Recently, we received a desperate plea for help…this little guy was "living" at the end of his chain, location: Reynoso, Mexico. So, we reached out to our amazing friends at H2M2 NATION – OPERATION: TRANSPORT. If anyone could get this kiddo to us safely, it was them, paws down! H2M2 Transport Coordinator extraordinaire, Frank Gonzales, rallied his Village and together, they put the wheels in motion to secure Charlie a #ChainFree American citizenship as quickly as possible. It was no easy feat. Taking into considerations dicey logistics, a global pandemic, as well as the mental and physical state of our special passenger. Cosmic Charlie has not lived a good life: he was left to suffer in pain blindly for who knows how long. He was starved (weighing a mere 26lbs), sick with Ehrlichia and Anaplasmosis, full of internal parasites. He is extremely hand-shy and he was terrified. All of these things together make for one very grumpy Husky.
Charlie grumbled and growled his way across the Mexican border, through the state of Texas, safely to NMDOG HQ – Albuquerque, New Mexico. We are so incredibly grateful! So many awesome humans came together on his behalf. Travel plans were modified, vehicles were adjusted, handling skills were put to the test, vaccinations were given, a health certificate was issued and 100s of miles were driven, rich with patience, TLC and understanding, every step of the way. Thank you to each and every person that took time out of their life to ensure that Cosmic Charlie was given the chance he deserves.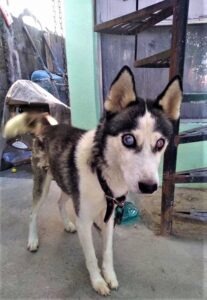 Charlie arrived to us late Sunday night. Overall, he is doing pretty well. We started pain management right away, antibiotics for the tick-borne diseases, dewormer and multiple small warm meals throughout the day. It's going to take a minute for his tummy to get straightened out, as well as his sweet little head. So, we are going to start with his eyes and eliminate the pain. Cosmic Charlie has a pre-scheduled 911 Ophthalmology consult scheduled tomorrow at VCA Veterinary Care Animal Hospital and Referral Center with Dr McLean. This will be a sedated exam. We suspect the good doctor will tell us that Charlie will need to have both eyes removed asap. In anticipation of this, we have a standing bilateral enucleation/neuter appointment on 6/23/20 at 4 Paws Pet Hospital. Cosmic Charlie needs the opportunity to decompress, fill his belly, get rid of all the bugs and the constant, excruciating pain while he soaks up all of the love we have to give. It is our deepest hope that once all of his needs are being met, he will come around and give "PEACE" a chance…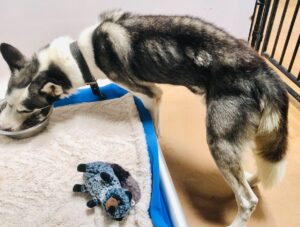 Charlie has a long road ahead, both physically and behaviorally. His so-called previous "life" at the end of the chain has really taken a toll. But we have promised to walk this road with him and to never let anyone ever hurt him again. Please help us keep our promise to Cosmic Charlie. Allow us to make up for all of the suffering he's endured and support us in our efforts to turn his life around.
NMDOG Village: he is counting on us. Together we can be there for him when there was no one else.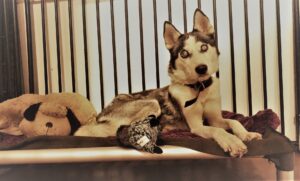 Please send us your donation to help us take care of Charlie. You can use the donate button on the right-hand side, or you can mail your check to: NMDOG, 9445 Coors Blvd NW #171, Albuquerque, NM 87114.
Or you can call your donation directly into 4 Paws Animal Hospital and tell them it's for the NMDOG account. Their number is (505) 821-0309.
Thank you to each of you, for always enabling us to give these incredible once Forgotten Dogs, the chance to live their very best life. Without you, we are nothing. Without NMDOG, so many dogs like Cosmic Charlie would never be given the chance to know love.