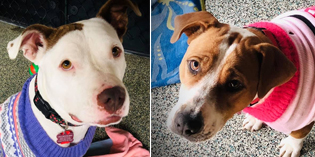 Journey (the precious little brown bear) was dragged into the Aztec Animal Shelter by her people (at the end of her chain). After having had many litters of pups, she was just discarded. Terrified and malnourished, Journey is especially afraid of things with handles (rakes, mops, scoopers, etc). She was beginning to really shut down in the shelter environment, but bless her little heart, she is doing much better now. We are working through it. Journey is very eager to trust and she is very brave!! Thank you to everyone that looked out for her along the way. This Pibble Princess' life has just begun…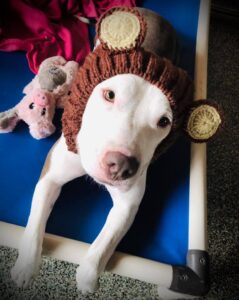 Sweet little Indie (the cute little panda bear) seems to have wandered off of a local Pueblo. She was in pretty desperate shape when neighbors notified us of her situation. They had been providing food and water for weeks, but were unable to get close. We spent a few days letting her get familiar with us then were able to safely get her leashed and loaded up. Indie appears to have been attacked by other dogs but she is healing up nicely. Her #AdoraBull little Pittie/Bassett personality is really beginning to shine, and she makes the most ridiculous noises! All Indie wants is love…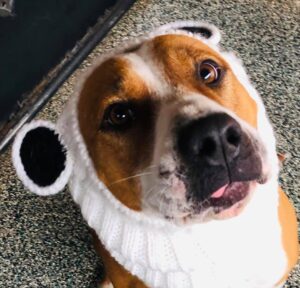 Both of these special ladies are around four years old, incredibly sweet with humans, a little on the shy side, and would prefer a home as the only pup. We know there will be a couple of incredibly lucky forever humans in their near futures, but for now they would each benefit greatly from time in an NMDOG Foster Home. Interested in fostering Indie or Journey?  Fill out a Foster Application!
If you cannot foster at this time, please consider a tax-deductible donation if you are able. We rely solely on those that support our important work and COVID has been super challenging (as it has for everyone). So many dogs and so many humans are incredibly grateful for your ongoing support!
You can use the donate button on the right hand side of the screen, or click on "See More" in the Facebook post below to contribute to the Indie and Journey fundraiser on Facebook.