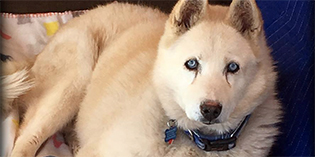 Rasha is a blind Husky who was rescued by another group, placed in foster in Gallup, and got lost. After a group of dedicated people searched for two weeks(!), Rasha was found. The folks who had him collected the $1000 reward (paid by NMDOG and our friends at Second Chance Animal Rescue, Inc., New Mexico…Thank You SCAR!!). Rasha was transferred to NMDOG to get the medical care he deserves. When Rasha first came in, he was having a hard time walking, stunk to high heaven, and had a hefty discharge from his eyes. We did a full medical workup, took him to our opthamologist and to our friends at The Doggie Den for a spa day!
Rasha suffers from a painful degenerative disease of the spine called Spondylosis, and congenital cataracts in both eyes. We started him on a nutritious diet, pain meds, and a lifetime of twice daily eye drops to avoid the building pressure. Today Rasha acts like a little puppy, despite being eight years old. He's bouncy, prancy, happy, and loves to run! He is now out of pain caused by the Spondylosis and doesn't have any trouble getting around.
Rasha is great with other dogs, loves car rides and doing zoomies in the yard. If you are looking for a sweet, snuggly, kind-hearted, mellow Husky in your life, Rasha is your guy! He is in need of a foster home and is available for adoption through NMDOG. Please send us an email to learn more!