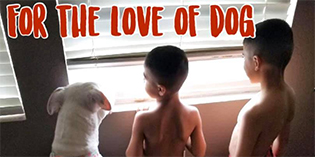 Dear #NMDOGvillage….some serious talk.
On a personal level, it feels extremely weird for me to ask for donations right now, with all that is going on for EVERYONE. But on a professional rescue level, it is necessary. Please accept my sincere apology. We understand deeply, how this crisis has affected us all. First and foremost, I just need you all to know that.
Our utmost goal and priority at this time is to be there in a support capacity for all NMDOGs and the humans in their lives—however that might look. This includes current program dogs at HQ, in boarding and foster homes (currently we have 12 dogs in foster care). As well as all of our kiddos in NMDOG #HomeSanctuary homes (Hospice, Forever Fosters, etc.). Outreach and adopted NMDOGs in their forever homes. That total number easily exceeds 1000 dogs!! My main job in life right now is to ensure that all of our "placed" dogs and their families have all that they need and are able to stay together, and to ensure that our current program dogs continue to have all of their needs met while working hard to find their Foster and/or Forever homes. Any new intake considerations will have to be careful assessed as/if resources allow, but all prior NMDOG commitments to new intakes will be honored (coming soon).
Due to the restrictions and guidelines we are all forced to adhere by during this global crisis, traditional NMDOG fundraising opportunities have been affected. We were just getting ready to start organizing the NMDOG Spring Online Auction, but now just isn't the time to ask our business partners for service/item donations; it's not the right time to ask people to leave their homes to drop off / pick up donations, etc… It's just not the right time. We will consider a make-up event once things settle down, because our bi-annual auctions are an important source of funding for the dogs. Adoption events cannot be held, adoption meet-and-greets are few and far between, and, as a result, my guess is our dogs will be experiencing an extended stay in our care. And that's OK. We just need to be able to provide for them financially.
Monthly overhead for #NMDOG, an #AllVolunteer organization, runs around $13,000. This includes rent, utilities, upkeep for NMDOG HQ (housing up to 18 dogs at any given time), boarding expenses (currently we have 9 dogs in boarding), vehicle insurance and upkeep, general organizational liability insurance, training and enrichment expenses, gear/supplies, meds/routine vet care, food/treats/monthly preventatives and so much more. Because we planned ahead with our food and in-house/ongoing medication purchases, our bank account took quite the hit. But, by doing so, we are alleviating the possibility of not having these things available in the weeks/months to come. The extra money needed for these expenses totaled approximately $5500, and came directly from our general account. This leaves us nervously in the "grey" going forward, with very limited foreseeable fundraising opportunities. We also just incurred a wave of unexpected Home Sanctuary kiddo medical bills and will need to get them paid off asap. Currently, we have 15 pups in the NMDOG Home Sanctuary Program living their best lives.
We are ramping up grant applications as much as we possibly can to help offset this shortfall and we are thinking "outside of the box" for additional funding sources. But all of these things take time and there is an exponential amount of "competition" for grant funding. We will be working extra hard in this area, I assure you. 90% of our funding comes from individual donors such as yourself and with the tragedy that has befallen us, I know that in the coming weeks and months many will no longer be able to give as they would like. We want you to take care of your own, as well!
But….if you are able, during these uncertain times, please consider helping us keep NMDOG afloat. It would mean the world to the dogs. $5, $10, $20… no amount is too small, and every penny goes directly to the dogs in our care.
We are also working hard to be there for those in the community that don't have NMDOGs in their care, by way of gathering and distributing much-needed supplies/food, help with shelter/AC capacity shortage issues, lost/found dogs, training/behavior resources, Outreach, etc. Despite our own hardships and uncertainties NMDOG remains an organization committed to serving the community.
>>More information about our supplies drive.
Ways to help
DONATE using the donate button on the right-hand side OR by mailing your check donation to: NMDOG, 9445 Coors Blvd NW #171, Albuquerque NM 87114.
FOSTER an NMDOG during this critical time! This will enable us to assist our partner shelters and local Animal Control Departments by opening up a spot and will help offset boarding expenses. Everything you need is provided by NMDOG: food, supplies, medical care, training, etc., and you have the support of the NMDOG TEAM 24/7. There is never a cost to foster for NMDOG: you provide the safety and love! Submit a foster application today!
ADOPT an NMDOG and provide them the forever home they deserve! All placements include a home visit, meet and greet, and trial adoption period. Submit an adoption application today!
SHARE our fundraiser! SHARE our dogs! SHARE our Facebook posts and keep NMDOG on the minds of dog lovers everywhere. We need the power of The Village now, more than ever.
THANK YOU to each of you for always being there for us. We will continue our Mission 24/7/365 as we always have:
 To serve and protect New Mexico's Forgotten Dogs.
On a wing and a Paw-Prayer…we are #KeepingTheFaith!
Be well, stay safe and hug your pup a little tighter for all of us. NMDOG Village: we love and appreciate you!
XoXo ~ Angela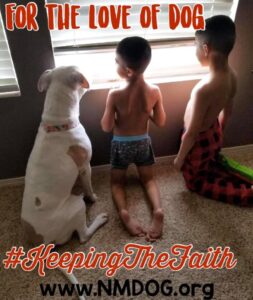 ***pictured is NMDOG Home Sanctuary kiddo Santana practicing #SocialDistancing with her own little humans. Recently diagnosed with inoperable Osteosarcoma, now receiving palliative care, she's keeping the faith and she's keeping the love alive!