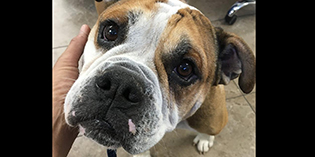 **warning!**graphic images!** Last month, our Bernalillo County Animal Cruelty Task Force (BCACT) took custody of a severely abused and neglected dog. He was tethered with two collars deeply embedded into his neck. He laid in a hole made of dirt, suffering from severe burns over a majority of his body. His flesh was rotting and he was covered in flies and maggots…he had been Forgotten. He was immediately seized and taken to the emergency clinic for the lifesaving care he so desperately needed. His "Guardian" was taken into custody and charged with extreme cruelty to animals and aggravated battery with a deadly weapon, and remains on a no-bond hold. We received the heads-up after the Sheriff's Office and Animal Care Services responded to a domestic violence call in progress, leaving no victim behind.
Recently, we received a grand jury indictment on all charges. We are grateful to the swift actions of those on scene and to Future's legal team!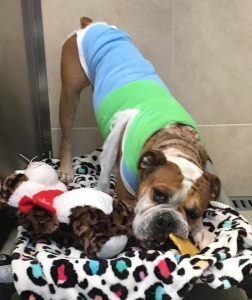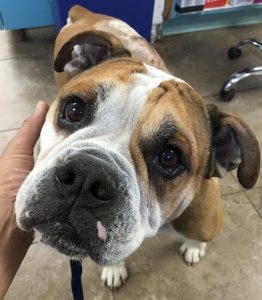 Village, meet Future, the newest member of the NMDOG pack. Future has been undergoing intensive burn treatment and is making exceptional progress. The physical torture he endured at the hands of his alleged abuser is evident in the scars he bears, and in many of his responses and behaviors. This is not the first time Future has been the victim of abuse in his life….but it is most certainly the last! Future is now legally in our custody, but the fight for justice is far from over, and we will walk with him every step of the way.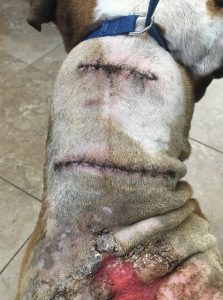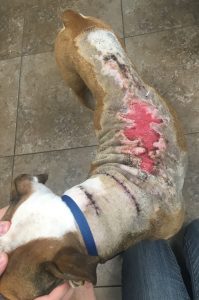 We can't do this very important, lifesaving work without your support. Please consider making a tax deductible donation to Future's rescue and ongoing care, while we work hard with our BCACT partners to ensure justice and a happily-forever-after for our boy. Click on the "YouCaring" image on the left-hand side to donate, OR on the "donate" link on the right-hand side. You can also call in a donation to Petroglyph Animal Hospital directly (tell them its for NMDOG Future) at (505)898-8874. OR, if you prefer, check donations and care packages can be sent c/o FUTURE to:
NMDOG
9445 Coors Blvd NW #171
Abq, NM 87114
We will continue to update you on the case and Future's progress. He is an amazing dog with a heart of gold….even after the horror he's been through at the hands of humans.
#BCACT #TheLink #UNchain #TheFUTUREisBright Thank you to everyone that supports our work for the chained and Forgotten Dogs of New Mexico!