03/10/2010 4:30 PM Update | May peace be your final journey, Mr. Buttersworth… Village, I am so sorry to have to tell you that Mr. Buttersworth left us a short time ago. I got a call from the clinic letting me know that his condition was declining. I got there within minutes. He was laying peacefully, all snuggled up in his blankets. He would not lift his head, he hadn't taken any food all day, and he was no longer interested in drinking. Edema was setting in due to liver failure, his breathing was becoming very shallow, and he was beginning to loose all color. Despite our very best efforts, there was just nothing we could do to make him better. It was decided that the most honorable decision was to provide him with a dignified, loving passing. I laid with him, as close as I could without hurting him, and told him how much we all loved him. I told him what a GOOD BOY he was and how grateful we were to have found him when we did so he wasn't alone in this moment. I talked to him sweetly, I spoke to him softly. I gave him every ounce of love I had in me.
I knew going in that his chances were very slim for recovery. But I just felt, with everything in me, that he deserved to have *someone* fighting for him. Village, we did that. We provided him with the best medical care, affection, attention and we made him as comfortable as possible. I believe in my heart that he knew he had a Village in his corner. I believe in my heart that he felt the love from each one of you, and I believe, in my heart, that he was so incredibly grateful. Before he took his last breath, he looked deep into my soul and I believe he said "thank you". I am so sorry that I don't have better news for everyone. You all rallied so hard around him. Thank you to each of you for everything you gave our dear Mr. Buttersworth during his very short time with us. I know he is free now from the pain, from the suffering, and from the sadness Sometimes that is the greatest gift we can give them.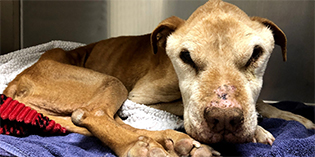 (Original post from 03/09/2020) | Last night, while responding to a(n) (unrelated) call out on the West Mesa, Bernalillo County Sheriff's Office Deputies from our Bernalillo County Animal Cruelty Task Force happened upon a heartbreaking scene: this poor little ElderBull was all alone and very near death. Curled up into a broken little ball and unable to stand. In cooperation with partner Officers from Bernalillo County Animal Care and Resource Center, they scooped him up and got him to the emergency vet right away. We received the call for help, and did not hesitate. We made the necessary arrangements, and, this morning, we transferred sweet Mr. Buttersworth to our friends at Petroglyph Animal Hospital to begin diagnostics and continued ICU care. Sadly, his condition is extremely critical, but after speaking with our medical team, we are all in agreement that we would be doing him no harm by keeping him comfortable, providing supportive care and giving him an honest chance.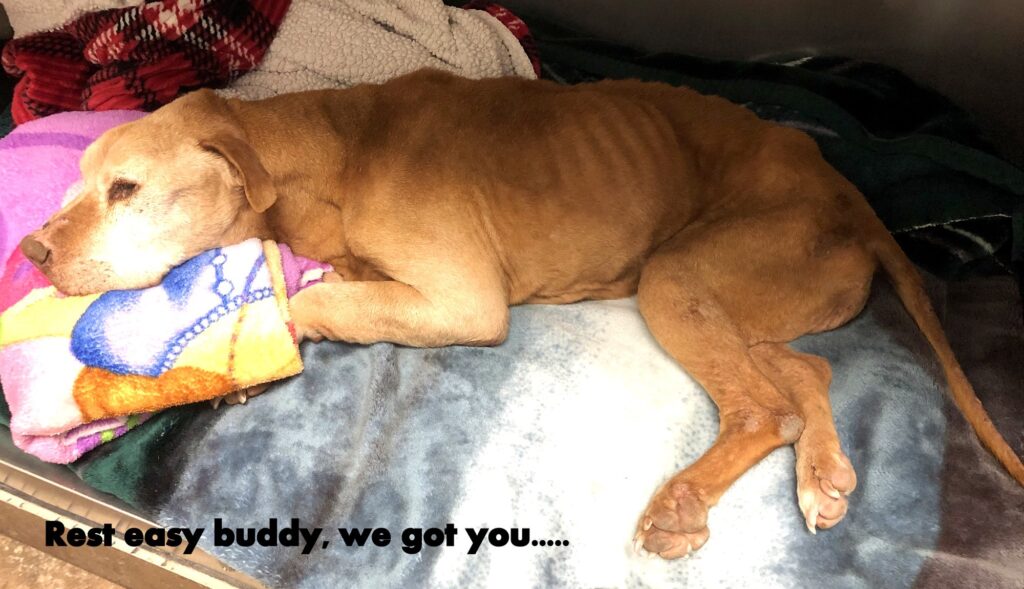 Mr. Buttersworth is likely between 13 and 15 years old. He is an intact male with no microchip or other form of ID. He is, what we call in rescue, a "hot mess," but we love him with our whole hearts already, and we feel as though he deserves to know this. He has already shown us a few signs that he wants to fight! He is now lifting his head, he looooves ear scratches, he is super excited about eating (and will be fed very small portions every 3 hours) and he is able to drink on his own. His bloodwork levels are all on the verrrry low end, which leads to suspicion of many things (too many; I can't recall all of the details at this moment, but will post more info as soon as I can). For now we are taking it one day at a time, with the next 24 hours being the most critical. If Mr. Buttersworth responds well and can gain the strength needed to leave the hospital, we already have a wonderful NMDOG Home Sanctuary provider lined up for him. He will live in cushy beds and blankies, he will be fed whenever he needs to eat, he will have a stay at home Mom to shower him with all of the good stuff, and he will have the #NMDOGvillage for the rest of his days. That's what we want for this special little fella: we want him to what it means to be treasured and adored, for the rest of his days—however long that might be.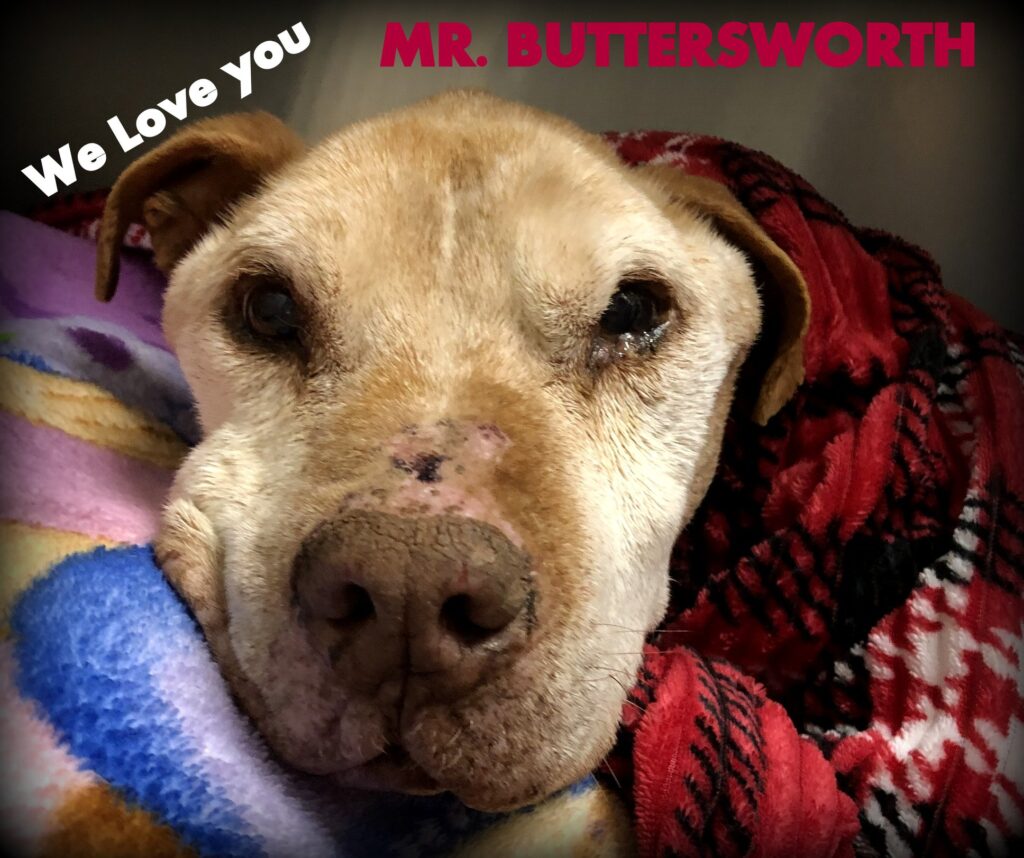 Please consider making a tax-deductible donation to help us give Mr. Buttersworth the fierce determination he deserves. You can click on the DONATE button on the right hand side of the screen, or you can call in a payment directly on the NMDOG account at Petroglyph Animal Hospital by calling (505)898-8874, OR you can send a check to: NMDOG, 9445 Coors Blvd NW #171, Albuquerque, NM 87114.
Thank you to each of you for making it possible for us to answer these desperate cries for help.