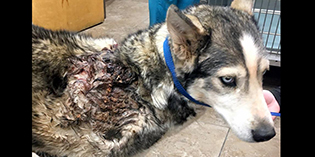 *WARNING! GRAPHIC IMAGES!* We apologize for the disturbing images, but Narnia's story must be told! Recently, we received an urgent call for help. With the assistance of our sister rescue, The Animal Welfare Coalition of Northeastern New Mexico out of Las Vegas, NM, we were able to secure a good outcome for this sweet Husky.
Narnia was shot on her chain with a high powered rifle and left for dead. Another Husky on the property had also been shot and was already deceased. Three additional chained (and extremely emaciated) Huskies were taken into custody, along with three juvenile pups. AWC volunteers rushed Narnia to our clinic in Albuquerque to receive the urgent medical treatment she so desperately needed, as a member of the NMDOG pack.
Narnia suffered extensive tissue damage, a fractured scapula, and extreme infection. We weren't sure if we could save her. But with the skill of our treasured medical team at Petroglyph Animal Hospital behind her Narnia would have the best chance possible. After re-granulation of the tissue and some repairs to the scapula, the wound was closed, and Narnia is on her way to a full recovery.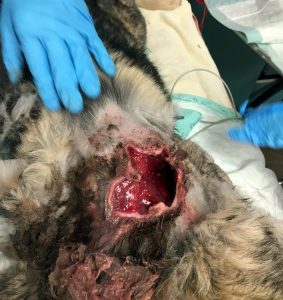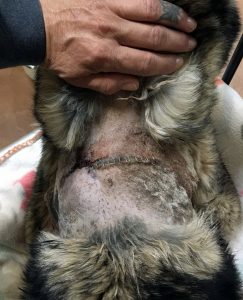 Without our intervention and the amazing TEAMwork of our partners, Narnia and the others would have surely perished. A slow, agonizing, and very painful death.

There is no animal control in Mora County. There is no interest from law enforcement to ensure the welfare of animals.
It is unthinkable how they suffer.
Please consider a tax deductible donation for Narnia, which will enable us to continue to answer these never-ending cries for help…