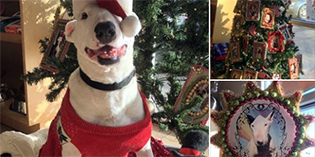 The 8th Annual NMDOG Holiday Giving Tree stands now through Christmas Eve at Pet Food Gone Wild in Rio Rancho (located at 2415 Southern Blvd SE).  It is adorned with beautiful handmade photo ornaments of each of our Dogs; many looking for forever, some also in need of a foster home. Some of our kids — those with special needs, either medically or behavioral — are part of the NMDOG Home Sanctuary Program and are in a wonderful home environment, with amazing families. They also have an ornament on the NMDOG Giving Tree.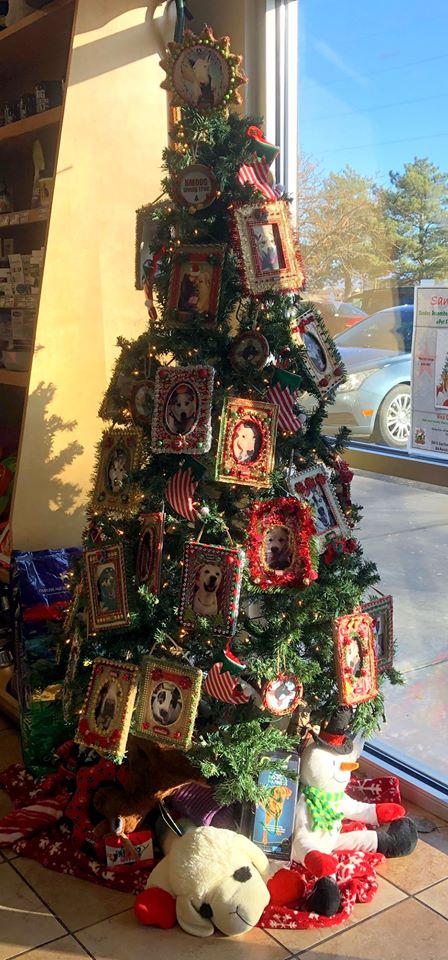 On the back of each ornament is each dog's Christmas wish list, which you can fill right there in the store with a generous 15% discount! When you fill a wish list, you can then take your NMDOG keepsake ornament home and hang it on your tree. Each ornament was made with love by the amazing NMDOG Giving Tree Elves! Or, you can phone in your gift to the store and have the ornament mailed to you. Call them at (505)994-0101.
Please help our amazing Dogs have their best Christmas ever! Stop by the store and fulfill a wish, making each of them very happy, or… give one of these Angels the home they deserve: become a treasured NMDOG Foster Guardian, or Adopter!  Once an ornament wish list is filled, we will add pics to this album of that kiddos special Elf or Elves, and of them enjoying their awesome presents!
If you prefer to send any of the kids a Christmas care package, you can do so by mailing it to: DOGS NAME c/o NMDOG 9445 Coors Blvd NW #171 Albuquerque, NM 87114. Or….you can send in a Holiday sponsor donation to help with their ongoing care (housing, medical, food, training/rehab) while we work hard to find their perfect forever family, or for those in the Home Sanctuary Program as we continue to provide for their lifetime needs. We have an NMDOG Amazon Wish List to make your gift-giving a little easier!
Thank you to each of you that helps make the Holidays great for our Dogs! And, as always, thanks to our friends at Pet Food Gone Wild for hosting the NMDOG Giving Tree each year!