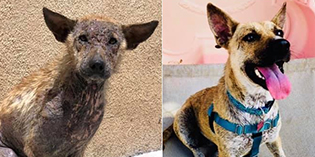 Kenzie came to us in July of this year from our friends at the Gallup-McKinley County Humane Society after she was surrendered to them off of her chain. Kenzie suffered tremendously, both physically and emotionally, from the time she was just a wee pup. At 3 months old, she already suffered from one of the most severe cases of demodectic mange we have seen to date, along with malnourishment and a secondary skin infection. Kenzie was also terrified and reacted with aggression to the touch – who can blame her, she was in tremendous pain and had never known a kind hand before. We promised to show her love and give her all of the time she needed to trust us.
Fast forward now 3 months into her time with us and our little munchkin is doing great!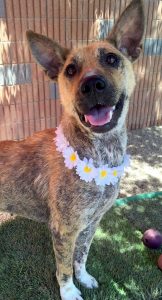 As you can see, she looks like a completely different dog now and she acts like one too! As her skin began to heal and her fur started sprouting up in little patches, I was watching her in the play yard one day and thought to myself…"oh, she's starting to look kind of like a Belgian Malinois! (yikes! lol)". Mmm…I then started making some breed connections with the behaviors I was observing so we decided to do a DNA test! Low and behold, our little Rez Dog is Malinois on one side top to bottom and the other….Border Collie, Australian Cattle Dog and Australian Stumpy Tailed Cattle Dog. We also learned that she is MDR1 gene (-) yay!! Kenzie is a working dog through and through: she's going to need a super special person, our little "New Mexican Purebred Rezinois." We will find them!
Kenzie has been making huge strides in behavior modification at NMDOG HQ…and now that she's received a (-) skin scraping (no more live mites yay!), her skin is no longer cracking or bleeding, she has some meat on her bones, has been given a full set of vaccinations, has been spayed and microchipped, Kenzie is now enrolled in NMDOG training class! Her Adoption Ambassador Volunteer, Erin, has done lots of work with her on muzzle desensitization in preparation, as well as impulse control and focus! Needless to say, Kenzie trains like a dream and is extremely driven. Kenzie will start working on her dog – dog behavior soon here at NMDOG HQ and soon she can begin offsite walks and outings.
Thank you to everyone that has played a part in little Kenzie's journey so far and to our amazing Village for your contributions towards her ongoing care and training! We can't do this work without you and Kenzie is so very grateful!