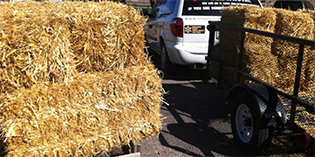 At NMDOG, we believe that every dog should (and we wish that every dog could) live inside of the home as part of the family. Unfortunately, that is not our reality in New Mexico. Through Outreach and Education, we strive to improve the lives of as many dogs as we can, with the hope our work will leave a lasting impression.
Each winter, we launch the NMDOG Statewide FREE STRAW Program by providing FREE STRAW to rural areas across the state. We partner with outlying shelters, animal control, and law enforcement departments in a joint effort to keep as many dogs as possible warm through the winter, saving countless lives. Our goal is to reach a large population of cold outside dogs (many of whom are chained) that we would otherwise not have access to, due to our limited resources as a small, all-volunteer organization. By partnering with these agencies across the state, we are able to extend our reach substantially and lessen the suffering of so many more dogs. Having a warm, soft layer of straw inside a properly insulated doghouse makes the difference between life and death when our temperatures plummet.
Through the generosity of donations from those who support NMDOG's mission, as well as our compassionate animal welfare partners, it is possible for us to provide straw to these rural areas inhabited by hundreds if not thousands of outside dogs. This program is 100% donor funded, fueled by NMDOG Volunteer power, and executed by our shelter, animal control, and law enforcement partners. One bale of straw costs an average of $8, and is enough for 3 to 4 doghouses. NMDOG spends an average of $5000 every winter providing FREE STRAW across the state of New Mexico. That breaks down to 2500 dogs who benefit from the program each winter. There is no way NMDOG alone could reach that many dogs. That is what makes this program such a success, and a WIN – WIN for everyone who participates.
Please SHARE! It is important for everyone to know that this resource is out there and available to anyone with an outdoor dog in need! If you work in a jurisdiction that would like to participate in the NMDOG Statewide FREE STRAW Program, we would love to have you on board!! Please send an email to Angela@nmdog.org and we will get you started.