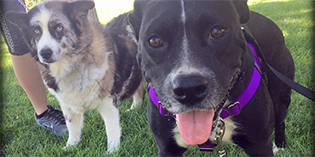 NMDOG little Pittie Pie out and about today at the park, where she met some new friends. Pie recently underwent a rear leg amputation after she was removed from her chain in the Meadowlake hoarding case (read our Facebook post about this). She was also being treated for Anaplasmosis so surgery was tricky. But she did great and Pie is making great strides in her recovery—both physically and emotionally. It is NEVER ok to chain a Dog.
NMDOG unchained six dogs from this property. There were a total of 16 dogs/puppies and 2 kittens! The remaining adult dogs (all running loose) were humanely trapped by Valencia County Animal Control, the puppies were taken in by another rescue and the kittens went to Animal Humane New Mexico where they received the medical care they so desperately needed. Please help us continue to answer these calls, consider a tax deductible donation. We are nothing without you and many have nothing without NMDOG.
Pie sends little tri-pawd Pittie kisses XO!