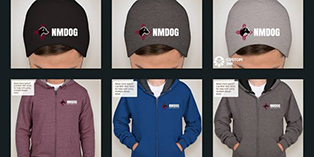 You asked and we delivered: beanies, zip-up hoodies, women's long sleeve hooded T's, AND unisex pull-over hoodies! Oh my!! A great Holiday gift idea or a cozy winter gift for yourself.
For a limited time now through November 18th via our #CustomInk campaign, you can order NMDOG merchandise for the love of dog. All proceeds benefit the Forgotten Dogs of NM!
We MUST sell 16 beanies (campaign #1), 17 zip-up hoodies (Campaign #2), and a combo of 20 women's hooded long sleeve T's and/or pull-over hoodies (campaign #3) for the orders to print! We've worked with Custom Ink before, and their quality is top-notch. You won't be disappointed!
Estimated date to ship for all items is 12/03/18. Plenty in time for the holidays!!!
Please SHARE with all of your NMDOG loving friends!