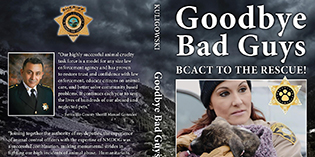 Here is some exciting news that many of you have been waiting for: the official release of the book "Goodbye Bad Guys," written by award-winning author Kate Kuligowski. This is the story of how the Bernalillo County Animal Cruelty Task Force (BCACT) was formed and the working partnership between the Bernalillo County Sheriff's Office (BSCO), Bernalillo County Animal Care Services (BCACS) and NMDOG. You can read about our work together in the field as well as behind the scenes, view pics and learn how to go about creating a task force like ours in your community. BCACT is the only known grassroots Animal Cruelty Task Force of its kind, partnering Law Enforcement, Animal Control and an in-the-trenches non-profit dog rescue to provide hands-on education, food/fencing assistance, spay/neuter/medical services and supplies, community policing, making arrests and making lives better—not only our animal victims' lives, but some human victims too. We hit the streets, boots on the ground, and together we have saved and rehabilitated 100s of lives, seized animals from horrific situations, prosecuted animal cruelty cases, and impacted our community in a positive way.
You can order your copy from Amazon (use Amazon Smile and further benefit NMDOG!). All proceeds from the sale of the book will go to NMDOG and will be used to continue our all-volunteer work, rescue and rehabilitation of the dogs rescued by BCACT. View our event calendar to see upcoming book-signing events!
‬
A huge all NMDOG paws high to our amazing partners, BCACS and BCSO, and an all NMDOG "Woof Out" of appreciation to our dedicated author Kate Kuligowski for her support and LoVe of Dog!!