WARNING! THIS POST CONTAINS GRAPHIC IMAGES!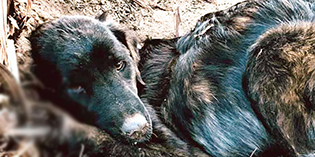 It started out as a beautiful day-hike for a small group of travelers. But sadly, what they found while visiting #NewMexicoTrue overshadowed the natural beauty our state has to offer. Instead, the horror of their experience will be a memory they take home with them.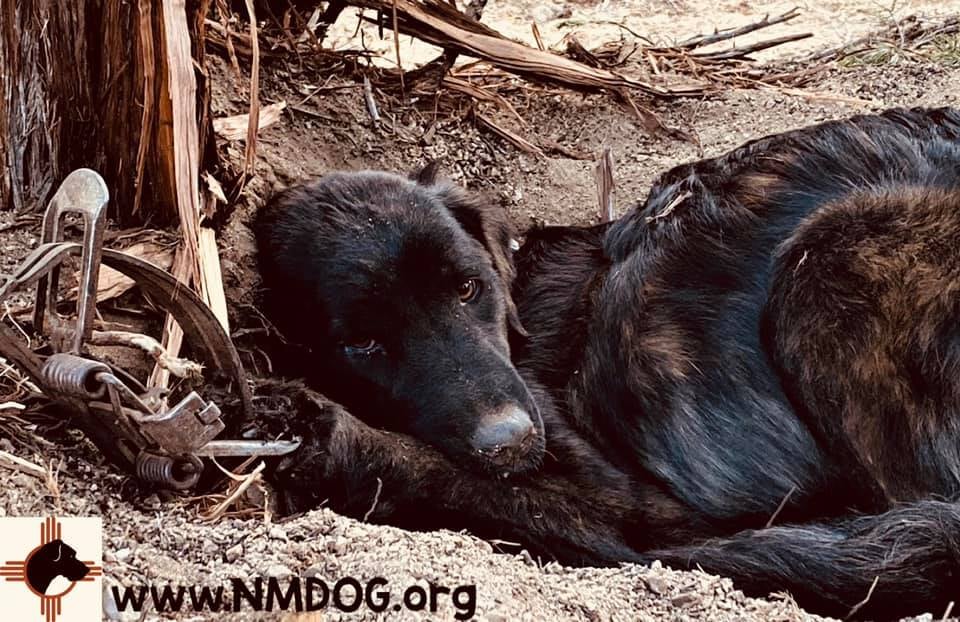 Late in the afternoon on Saturday 11/21/20, a little over a mile into the wilderness on NM State owned BLM land…their dog alerted them. The aroma from the bait buckets hanging from a nearby tree got the pups attention and what they found at the base of the tree took their breath away. Chained to the thick branches was a steel leg-hold trap, unmarked and completely illegal. In the grip of the sharp, rusty jaw of the trap was the paw of a fuzzy black dog…laying lifeless in the hole she dug to die in. They called out to the unresponsive dog, they slowly approached her, expecting the worst in the process. She slowly opened her eyes and with what seemed like the last bit of strength left in her, she gazed up at them….pleading. Her body was emaciated, her snoot caked with dirt and now crusting with discharge. Her paw was swollen and extremely painful, she was severely dehydrated. There is no telling how long she had been there and it was clear she wasn't going to make it much longer.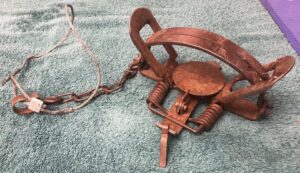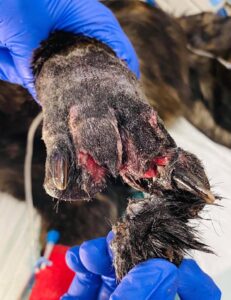 "How to release a suffering stray dog from a steel leg-hold trap on NM Hiking Trails" was not in their guidebook and where they are from, these monstrosities are illegal, as it should be! They did not know how to free this poor dog without hurting her more or possibly getting injured themselves. So, they did what they could by providing her with fresh water, a bit of turkey jerky, kindness, hope, some brief moments of comfort and a promise to return for her. Then they RAN full speed the entire way out of the wilderness.
As soon as they got back within service, they began calling everyone and posting everywhere in their efforts to find help for her. They contacted State Agencies, County Agencies and local Animal Welfare Agencies, to be told repeatedly they would "have to wait until Monday". #UNacceptable At appx 7pm Sat eve, they left a voice message on the NMDOG line. I checked messages that night around 10pm and theirs stopped me in my tracks so I called back immediately and they answered! I told them we would figure it out, we had to get this dog out of there…I could hear the relief in their voices.
I can't even imagine the despair they felt having to leave her there. Obviously, this needed to be handled immediately. "Mmmmm, who can I call in the middle of night to go into the forest in the middle of nowhere with a group of strangers to free a fairly large and injured stray dog caught in a leg-hold trap hours away". It was easy…..NMDOG Volunteer Alysha made direct contact w the finders immediately and they put a plan into motion #OperationWildTurkey
To ensure the safety of our Rescue TEAM, it was decided to wait until daybreak to hike back in and execute the Mission. I don't think any of us slept at all….worried and wondering if she could make it one more night.
Mahlia's Rescuers made the 2 hour hike back in at daybreak, carrying the supplies and equipment needed, along with some apprehension about what they might find. But when they rounded that last corner…there she was, still very weak but ALIVE!! Pawprayers had been answered THANK DOG!! Gently reassuring Mahlia that they were there to help, assessing her immediate condition and needs, Alysha triaged the situation to determine the best way to release and stabilize her for the hike out. Success!! The TEAM loaded Mahlia into the crate and began the journey back to the awaiting vehicles.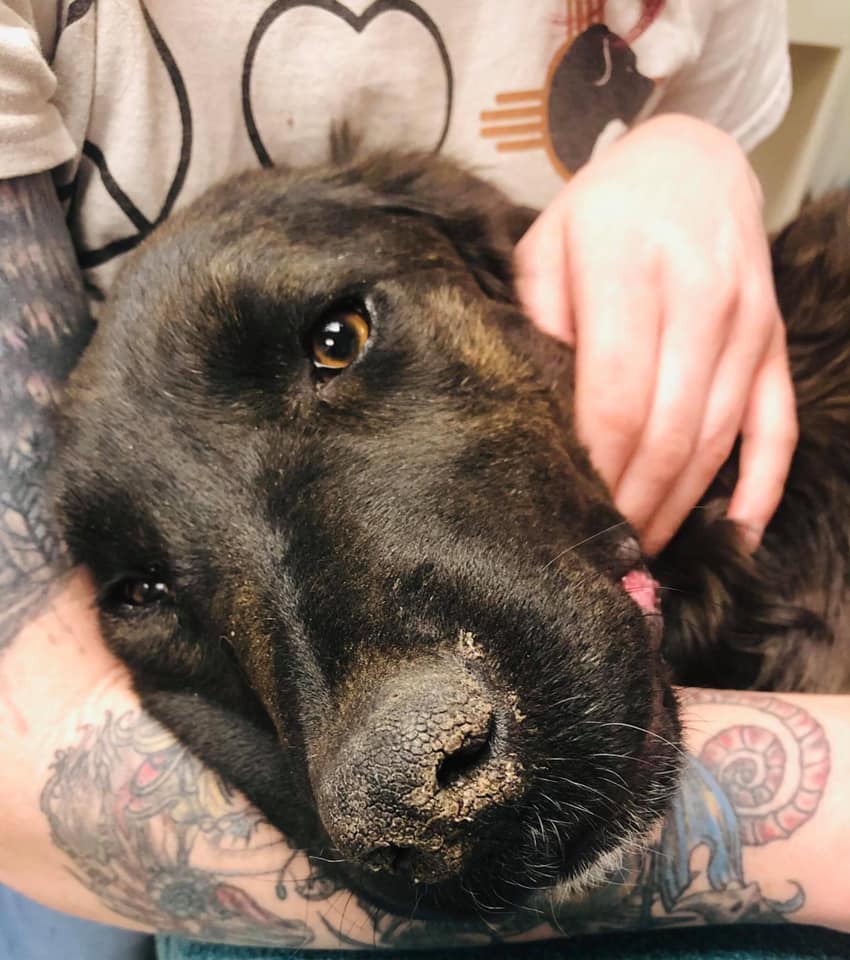 Once Mahlia was freed from her harrowing ordeal and it was determined she could make the trip safely to Albuquerque…she was transported directly to our TEAM at Petroglyph Animal Hospital to receive the 911 medical care she so desperately needed. Lifesaving fluids, pain meds, bloodwork, X-rays and a microchip scan which yielded a (+). YAY!! or so we thought. Unfortunately, Mahlia's people were not able to commit to providing the kind of indoor environment Mahlia would need to make a full recovery, nor would they be able to follow up with her post op care and recovery. They said she would be killed by Coyotes, Bobcats or maybe even their own other dogs!
Yikes, that sounds just terrible.
911 surgery was performed on her foot and though she has not yet felt like getting up or walking….she is eating, she is drinking and she is sleeping a lot. Her frail little body is healing, her organs are beginning to come back to life and we are confident Mahlia will make a full recovery.
We are so grateful that Mahlia was surrendered to our legal custody and we made a promise to her and to her rescuers: Mahlia will now be a treasured NMDOG pack member, for forever. She will never be left alone again, she will never be allowed to wander into danger and she will never go hungry or thirsty. We will walk each step with her, no matter where her journey takes us and Mahlia will now be surrounded by all of the love and support she could ever imagine.
#NMDOGvillage…..this is where you come in and we need you.
Knowing the significance of the situation, I reached out to our friends at Trap Free New Mexico and put them in direct contact with the finders. #TrapFreeNM will work with eyewitnesses and State Agencies on the investigation, NMDOG will continue to provide veterinary care, documentation and we will keep everyone updated on Mahlia's progress.
Together, we can give Mahlia everything she needs to make a full recovery and put this whole nightmare behind her!!
~ SHARE her story of #FierceDetermination and help us raise the funds needed to provide her with the very best of care.
~ EDUCATE your friends to the often unseen danger traps pose to humans, dogs, wildlife and LEARN how to release one if needed in an emergency.
~ SIGN the petition to #BanTraps, snares and poisons on NM public lands.
~ DONATE and support anti- trapping efforts.
~ VOLUNTEER to become a #FOSTER parent to Mahlia or another NMDOG in need….there are many. 
Big or little, everyone can do something to help make dreams come true!
To make a tax-deductible donation towards Mahlia's care, please use the DONATE button on the right-hand side of the page or you can call a payment directly into the clinic at (505) 898-8874.
If a check donation is preferred, please send it to NMDOG, 9445 Coors Blvd NW #171, Abq NM 87114. Care packages for Mahlia can also be sent to this address. Mahalo!
A huge thanks of gratitude to Mahlia's Heros: without their tenacity, her story would have ended much differently.