Ophelia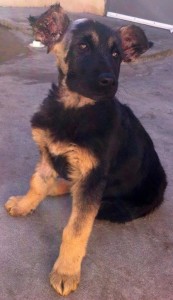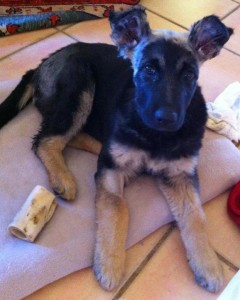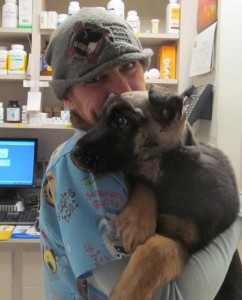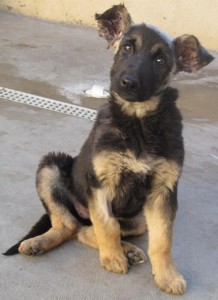 It was a day of moving, organizing, sorting & cleaning here at NMDOG headquarters. We had just finished unloading the trailer when the 911 call came in. One of our own, an NMDOG Villager, had just witnessed a brutal attack of her neighbors dog, a wee pup….all of 10 weeks old 🙁 She was home, heard the screaming coming form the yard next door & ran to the puppy's aide. Jumping the fence & safely getting the pup away from the full grown adult large breed dog, she swooped up the pups lifeless body, got in the car & called me. I advised her to get the pup to the closest vet & I called Bernalillo County Animal Control to meet her there. The pup, named OPHELIA by NMDOG, began receiving life saving care & her so called guardian was contacted by animal control & an owner surrender was obtained. (Bernalillo County has an "Incompatible Animal Ordinance" which states that all animals living as a unit must get along & exist safely) Because OPHELIA was left unsupervised with another dog that could knowingly cause her harm, the case may result in punitive damages…we'll have to wait & see. Our job now is to make sure she has every bit of care & support she will need to make a full recovery…then do all in our power to ensure she has a long, happily ever after! Custody was signed over to NMDOG & once OPHELIA was stabilized, we transferred her to Good Shepherd Animal Clinic. After a few days of supportive care & TLC….she is now residing in a wonderful NMDOG foster home. Where she will continue to receive top notch aftercare & will remain until we know for sure she has no residual damage, she is fully vaccinated, spayed & has had a chance to interact safely & comfortably with bigger dogs. We want her to know that having doggie friends is a GOOD thing!
Only because of Miracles & the swift action of the NMDOG Villager/good samaritan…OPHELIAS prognosis is good!! Unbelievably, she sustained no broken bones or fractures…especially in the skull area (where most of the damage was done). She does have swelling, severe bruising (all over), deep lacerations, puncture wounds & superficial damage to her ears. Xrays & an ultrasound showed no internal damage. AMAZING!!
As are the majority of our rescues here at NMDOG….OPHELIA was a an in the field emergency. Not one that we planned, not one that we had funds previously in place for & not one we could turn our backs on. If not for our taking custody, she was to be euthanized at the first clinic. We just couldn't let that happen….she deserved a chance & we had to make a split second decision to give her that chance, so we did!
We are counting on the incredible generosity of our Village to continue to support us in these decisions….decisions that change the LIFE of these DOGS every day. Please consider making a tax deductible donation towards the expenses we have incurred by choosing to save OPHELIAS life. It is the only way we can continue the good work we do. Without YOU…we are nothing & without NMDOG….these dogs would continue to suffer. Make an online donation now!
OR…you can mail in a check donation to:
NMDOG
7820 Enchanted Hills Blvd. Ste A-112
Rio Rancho, NM 87144
**stuffed animals, get well cards, treats, or ANYthing you would like to send OPHELIA as she heals can also be sent to the address above! Our injured dogs benefit greatly from the care packages they receive in the mail! They LOVE the goodies, but I think it is the LOVE that comes with them that truly makes them feel better! THEY KNOW!
If you would like to call in a donation directly to the clinic, please call Good Shepherd Animal Clinic (505)884-3200 & tell them it's for NMDOG & OPHELIA!!
We are currently accepting adoption applications for OPHELIA. Please visit the ADOPT page of our website to read through the NMDOG adoption process and submit an Adoption Application!
We were able to quickly secure a wonderful foster home for OPHELIA…but too many remain in boarding after their rescues! Please consider opening you heart & home to an NMDOG dog in need, become an approved NMDOG foster guardian! Submit an Foster Application today!  Please note that all financial needs are met by NMDOG…there is never a cost to foster an NMDOG dog..you supply the LOVE!
Thank you, as always, for your support of our work here at NMDOG & know that we will NEVER stop fighting for THEM!
for the LOVE of DOG….
Angela ~ President/Director, NMDOG