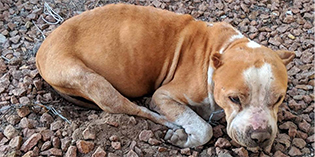 OCTOBER 7 PUPDATE
Village….tomorrow, STERLING gets to go HOME!!!!! He is such a good boy! His Doctors are so pleased with his progress. This kid was bound and determined for a taste of the good life, and we just couldn't be anymore thrilled. Tomorrow he will go to his wonderful #NMDOG Hospice forever Foster home. He's going to have everything that his sweet little ElderBull heart desires, the best care, and all of the love in the world. We will pack all sorts of great stuff for him to take home: big cushy beds, cozy sweaters to help keep him warm, his very own ball pit, and more.
We are so grateful to everyone that has been part of Sterling's journey. In such a short time, he's come such a long way! These heartwarming outcomes for these amazing Dogs wouldn't be possible without TEAMwork and everyone's continued support. Thank you, from the bottom of our hearts. STERLING will remain in NMDOG "FoReVeR Foster" care for the rest of his days and he will never want for anything again.
ORIGINAL RESCUE STORY (SEPT 28)
We learned about this sweet old man who was left chained to the entrance of Animal Services Center of the Mesilla Valley overnight and was discovered by staff early yesterday morning. In failing health, suffering from a long list of internal issues and external skin issues, emaciated, scared and confused, shelter staff scooped him up off of the rocks and got him the immediate care he needed. Their initial findings were bleak, but they didn't give up… We originally made arrangements for an NMDOG volunteer to drive down to pick him up in the morning, but after receiving a call from the shelter vet this afternoon with a new sense of urgency, we weren't sure he would make it through the night without additional resources. So, through a flurry of pleas, a group of Southern NM superheros made a 911 transport happen today!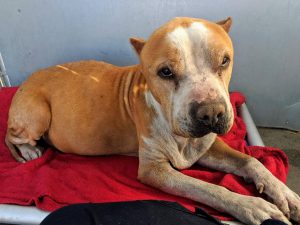 I will update as I can to keep everyone posted on his progress and prognosis. In the meantime, if you feel so inclined, please consider a donation towards his 911 care. NMDOG is an all volunteer org and all donations are tax deductible. Check donations and care packages can be mailed to: NMDOG, 9445 Coors Blvd NW #171, Abq NM 87114
Village… please welcome STERLING to the NMDOG pack and send some Pawprayers his way…
OCTOBER 1 UPDATE
Sterling has been under 24 hr care since entering the NMDOG program, and during that time, we have learned a few things. Here is what we know:
STERLING weighed 84# upon intake—he is considered to be emaciated and rates a "5" on the BCS. He has been retaining a dangerous amount of fluid, mostly in his abdomen, this is being tapped and drained daily. Currently he weighs 69#, and we are hopeful this drop will continue. I estimate STERLING would weigh approximately 45# if not for the fluid. His condition did not present overnight, and due to his current state, we can fairly assume he hasn't been in good shape in quite some time. We estimate him to be between 8-10 yrs old.
STERLING is in right-sided heart failure with fluid in and around his lungs as well. With the proper medications, STERLING is now having an easier time breathing and he is much more comfortable. Meds are also helping decrease overall fluid retention. His 4dx test was (-) for heartworm and all tick-borne disease – that is a miracle in itself, whew! We performed a preliminary ultrasound but the findings were inconclusive, so we have a specialty appointment scheduled for him on Thurs for a more in-depth procedure. Differentials currently include heart disease, cancer or possibly both, but nothing concrete as of yet. His blood-work looks really good, baring some mild worry regarding liver function, but we feel that with consistent quality nutrition, concern with this should lessen. He has a fantastic appetite which is an incredibly good sign and so very important.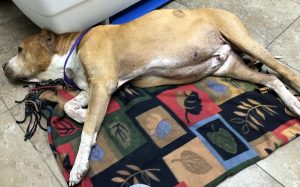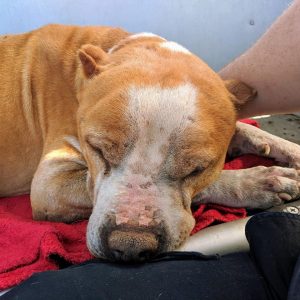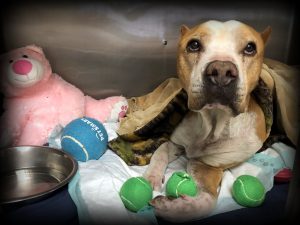 Due to the heart failure and extreme loss of muscle mass as a result of starvation, circulation is compromised and his core body temp is consistently lower than we would like for it to be. But special care is being taken to ensure he is kept warm and cozy. He's is as snug as a little bug in a rug! STERLING is in great spirits and he has shown us an incredible desire for a taste of the life he's always deserved. There are currently no urgent concerns regarding stability or his will to live, regardless of how little or how long he may have with us. Our focus is on making sure he is comfortable, happy, engaged, and smiling. We are taking it all day by day.
So that, in a nutshell, is his baseline. We are cautiously optimistic that he will continue to improve – but to what level, is still unclear. We probably wont have any additional or new info until after the u/s on Thursday and he will remain under the direct care of our amazing team at Petroglyph Animal Hospital at least until then. I visit with him daily and will continue to do so. He's also getting an incredible amount of love and attention from his doctors, techs and everyone at the clinic. His recovery cage is in the main treatment area, so he is never alone or unsupervised. He can just relax under his blankies, chew on his beloved tennis balls, and see everything that's going on around him. He gets taken outside multiple times a day to soak up some sunshine, relieve himself and stretch his little old man bones. He's actually cruisin' around pretty well! He is a beloved member of the PAH/NMDOG family and we are so grateful…
I can't thank everyone enough for the outpouring of love and support he has received!! Despite everything this kid has been through…the silver lining is the Village of people who have rallied behind him – including staff at the Animal Services Center of the Mesilla Valley who were the first ones to fight for him, and the volunteer drivers that got him to us in Albuquerque when he was in critical need! To each of you that has contributed monetarily to his care, we just cant thank you enough. These funds give us the ability to provide him with the very best of care and everything his squishy little heart desires. It is our hope that he will be stable enough to be discharged soon to NMDOG HQ then from here into a special NMDOG "FoReVeR Foster" hospice care home!! I don't want to set any unrealistic expectations or get anyone's hopes up, but between you and I, I really don't see that scenario as unrealistic at all. Of course, for a dog in STERLING'S condition things could shift at anytime. But for today, this incredible Dog is exceeding all of my expectations (plan for the worst, hope for the best) and that is the BEST news of all!! Keep this precious kiddo in your thoughts and keep sending Paw-prayers his way. He has the best Village in the Land and he knows it!