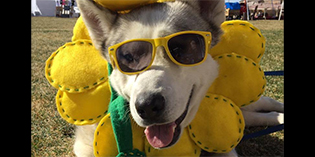 Axis is a 3 1/2 year old Husky with one of the biggest personalities you will ever find. He is handsome!! He is smart! He is silly and goofy! Axis looooves to sing and he looooves to play in the water!! He also loooves to be held and snuggled up close. He is the total package! Axis is great with other dogs in social situations, but will do best in a home as the only dog. He tends to think all people and food belong to him, which has the potential to create "domestic issues." But he will fill your home with the JOY of 10 dogs…we promise! Axis likes to go on walks, hikes and visit dog-friendly places. He walks well on his leash + harness, rides perfect in the car and he knows how to make a human smile! Axis also has many dog friends at NMDOG HQ and regularly participates in playgroups. He has been in the NMDOG program for over TWO YEARS…waiting for forever. We are baffled as to why Axis doesn't have a home yet, it must be a very special one.
It is time to find his people!!
Axis came to us from San Miguel County where he was once chained and forgotten, and left with an untreated eye injury. He was skinny and afraid, lacking self-confidence; worried about where his path would take him. Luckily, his path took him to NMDOG where he found comfort and acceptance. Axis is now at an appropriate weight, has received the needed eye surgery and medical care. It was discovered that Axis suffers from food allergies, but we have created a feeding protocol that works for him and as a result he has found relief and is now thriving. His allergy condition will be discussed with potential adopters but don't let that deter you, because it's totally manageable! Duck! Duck! Duck! and one pill a day, that's all you have to remember.
Axis found his inner extrovert and has been given the opportunity to blossom into his true personality and what a personality he has! He also has a super sensitive side which must be nurtured (like most Huskies) and prefers a calm, stable home environment. Axis needs a human that will understand and provide for his needs, while finding humor in his shenanigans! He has all of the love in the world to give and he is beyond ready to give his whole heart to a special someone. The lucky family that adopts Axis will be blessed with his song, his loyalty and a lifetime of good, honest Husky entertainment! Axis requires a 5 foot minimum non-chainlink fence, and breed experience is a plus!
If you are interested in adopting Axis, please submit an adoption application.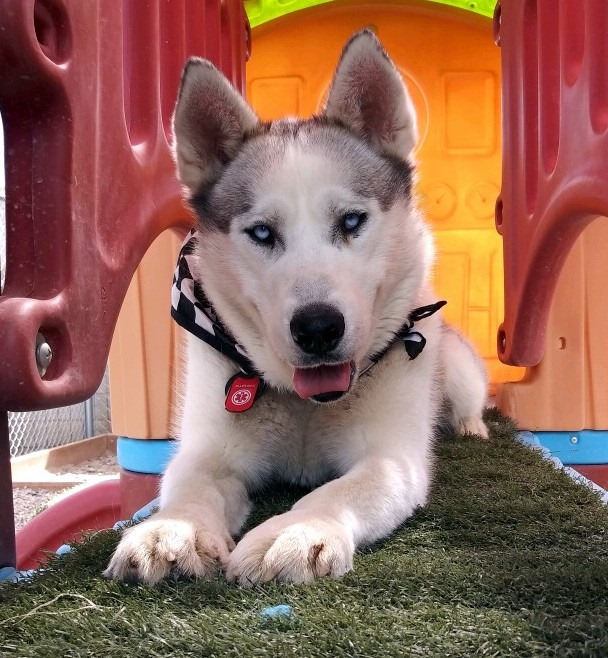 If you cannot foster or adopt Axis, but would like to contribute to his stay with NMDOG while we work hard to find his family, you can make a purchase from his special allergy free Amazon wish list. Axis sends howls of approval and gratitude!!
Axis is also available for foster and NMDOG foster homes are in critical need for many of their kiddos.
In order to continue answering the calls for NMs most Forgotten Dogs—the chained, the abused, the abandoned—NMDOG is in dire need of more foster homes. NMDOG has no public facility and we depend on the amazing hearts of our Foster Guardians in order to avoid spending much needed NMDOG funds on boarding. The more money we spend on boarding, the less we have to spend on medical bills, food, training, toys, equipment and everything else that is so desperately needed. When an NMDOG finds foster or forever, it allows us to rescue another deserving dog from their chained misery. It never costs money to foster for NMDOG. We take care of every expense, you provide the safety and the love. When an NMDOG is in foster care, it gives them experience living inside of a home for the first time ever and helps set them up for a successful adoption. NMDOG also provides training and 24/7 on call support to all of our treasured Foster families.
If you have ever considered fostering a rescue dog, now is the time, the need is overwhelming. Send us a Foster Application if you are interested in becoming an NMDOG Foster care provider! Contact us now and join the #NMDOGvillage!