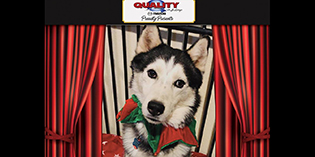 Our December Quality Mazda NMDOG of the Month is Handsome, The Christmas Husky!
Handsome is a four year old Husky with a heart of gold and a zest for life! Once chained and malnourished, Handsome broke free from his tethered misery and was picked up running loose by an NMDOG volunteer. When his people were located, they elected to surrender Handsome so he could have the life he deserves as part of a family. Handsome has been fully vetted and has received a full medical and behavioral clearance for adoption! He will do great in a Husky-savvy home with another fun-loving dog to romp around with, or as the only dog—as long as he is given lots of enrichment. Handsome is sweet and silly. He loves to talk and snuggle! Handsome walks well on his leash and harness, and he knows how to "sit" and "shake!"
Handsome is also in need of a foster home while we work hard to find the Forever Home of his Husky dreams. Contact us at info@nmdog.org if you are interesting in fostering or adopting!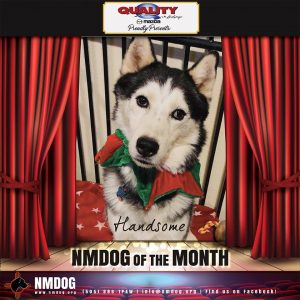 Join US for Handsome's Quality Mazda showroom meet and greet Friday 12/7 from 2pm-3PM. Meet Handsome, enjoy complementary refreshments, and check out the #QualityMazda NMDOG Donations Tree!
Thank you to our partners at Quality, for their continued support of NMDOG and our Mission: To serve & protect New Mexico's Forgotten Dogs!! Please stop by their page and show them some NMDOG LoVe!