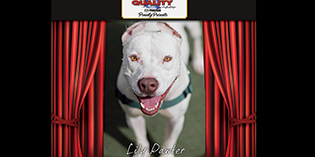 Our July Quality Mazda NMDOG of the Month is Lily Pawter: a beautiful, smart, affectionate, loyal and loving four-year-old Pittie girl. She was rescued from her chain in the southern part of the state where she was severely neglected and used for years as a breeding dog. Her ears were crudely cut and she was in terrible shape when rescuers found her. Luckily, they were able to secure a surrender that would put the wheels in motion for Lily Pawter's brand new, chain free life with NMDOG! Lily has been in our care for about a year and she continues to carry with her an endless amount of love and eagerness to please. We aren't sure why she hasn't been scooped up yet, but it may be because Lily needs to be the only pet in the home (and most dog lovers already have at least one furry family member!). This greatly lessens her chances for adoption, but we are confident there is a wonderful home out there for Lily.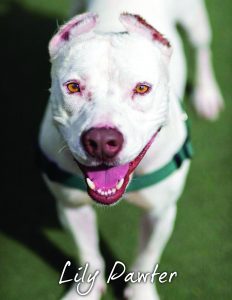 In the meantime, Lily Pawter has been doing some really exciting things in the NMDOG program! Lily is a graduate of NMDOG obedience class AND **505 Pit Crew**! This girl has mad skills! Lily Pawter was also one of our first participants in the NMDOG pilot program in partnership with CYFD – "505 Paws of Hope." For this program we carefully select an NMDOG for approved housing units on the CYFD / Juvenile Justice System main campus. Each unit is prepped through training, support and the provision of supplies prior to the arrival of their NMDOG, but that is just the beginning. Through their 12 week residency, our dog lives in their unit with the juvenile clients and CYFD staff as a member of their unit family. Our wonderful program dog trainer, Joyce Spinden M.Ed, CPDT of Be Positive! Family Dog Training, shines in her commitment to the dogs and the kids as she counsels clients and staff alike in dog behavior and provides weekly training sessions for handlers and their dogs. Joyce is an overall source of invaluable support for the program!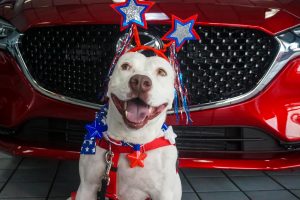 During their stay at CYFD, our dogs learn basic obedience, some tricks, and how to live inside as part of a family. And it's not just the dogs who are benefiting from this program: clients and staff have all reported that having the dogs in the units has boosted moral, lessened unit incidents, and instills a sense of compassion, comfort and pride with the clients. Kids teaching dogs and dogs teaching kids and changing the direction of young lives in the process….it's a beautiful thing!!
Lily Pawter will soon be graduating from 505 Paws of Hope and she is ready to find the perfect forever family of her dreams! Lily needs to be the only pet in the home, but she is able to participate in polite greetings with other dogs in public. She will do well on leash with other dogs as long as there are no treat or food items present. Lily has no issues with humans and food—only other dogs. Lily would do best in a home without small children: 10 years old and older only please. Lily Pawter is housetrained, crate-trained, walks well on her leash + harness, knows basic commands and some cute tricks! She is super snuggly, loves watching movies with her peeps and attending administrative meetings. She enjoys fun games of hide and seek, searching for treats, fetch, and a quick dip in her kiddie pool! She is loyal and deeply committed to making her humans happy…she wants nothing more than to be a treasured member of her very own family.
Check out her appearance on KRQE News 13's Pet of the Week!
Please help us make Lily's dreams come true…and help us provide a happy outcome and positive closure for Lily's 505 Paws of Hope family, knowing she has found her forever place in the world! Lily Pawter is also available for foster! Submit a foster application or adoption application for Lily!