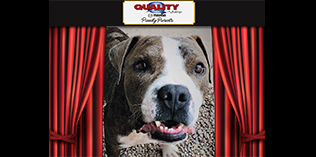 Our September Quality Mazda NMDOG of the Month is Lewis. This AdoraBull Pibble was rescued from the San Felipe Pueblo, thanks to good humans that cared. He suffered greatly before help arrived: malnutrition, dog attacks, severe infection, tick-borne blood diseases just to name a few. He's a young kid who was left to fend for himself and nearly lost that battle. Thankfully, he received the immediate medical care and intervention he needed, the love he desperately craved, and a brand new start in life.
Join us at the Lomas Quality Mazda location on Thursday, September  24th from 1-2 pm for Lewis' showroom meet and greet!!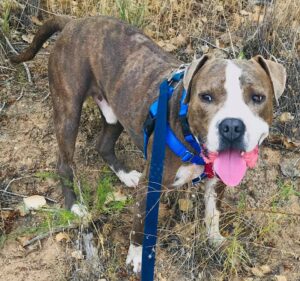 Lewis is around 9 months old and is as sweet as he can be! He is a curious little zoomy DoodleBug and although he has a shy side, he's ready to soak up all of the good life has to offer! "Little Louie" will thrive with a stable, nurturing and active family, one that will teach him good things and treasure him for always. He will learn quickly and he will love back with his whole entire heart. Currently, we are seeking a home for Lewis as the only pup, with Hoomans who will responsibly socialize him with good Doggie friends and provide Louie with lots of great enrichment! Lewis walks well on his leash and harness and he is respectful with other nice dogs.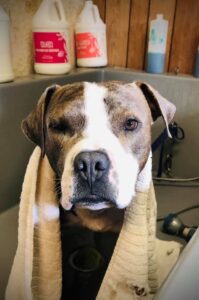 Louie is available for adoption and he is in need of a foster home! NMDOG has no public facility and we depend on the amazing hearts of our Foster Guardians in order to save more lives! It never costs money to foster for NMDOG: we take care of every expense; you provide the safety and the love. When an NMDOG is in foster care, it gives them experience living inside of a home for the first time ever and helps set them up for a successful adoption. We also provide training and 24/7 on-call support to all of our treasured Foster families. Interested? Fill out a Foster Application.*
If you are interested in adopting Little Louie, read through our adoption information and submit an Adoption Application!*
View Lewis' full rescue album on Facebook.
*NMDOG is following all CDC and state COVID guidelines during meet and greets, etc.