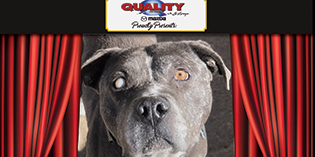 Our January Quality Mazda #NMDOG of the Month is Pilgrim.
Join us at the Lomas Quality Mazda location on Friday 1/17/2020 from 1-2 pm for Pilgrim's showroom meet and greet!! Thank you to our partners at Quality Mazda, for their generous monthly donation and continued support of NMDOG and our Mission: to serve and protect NMs Forgotten Dogs!!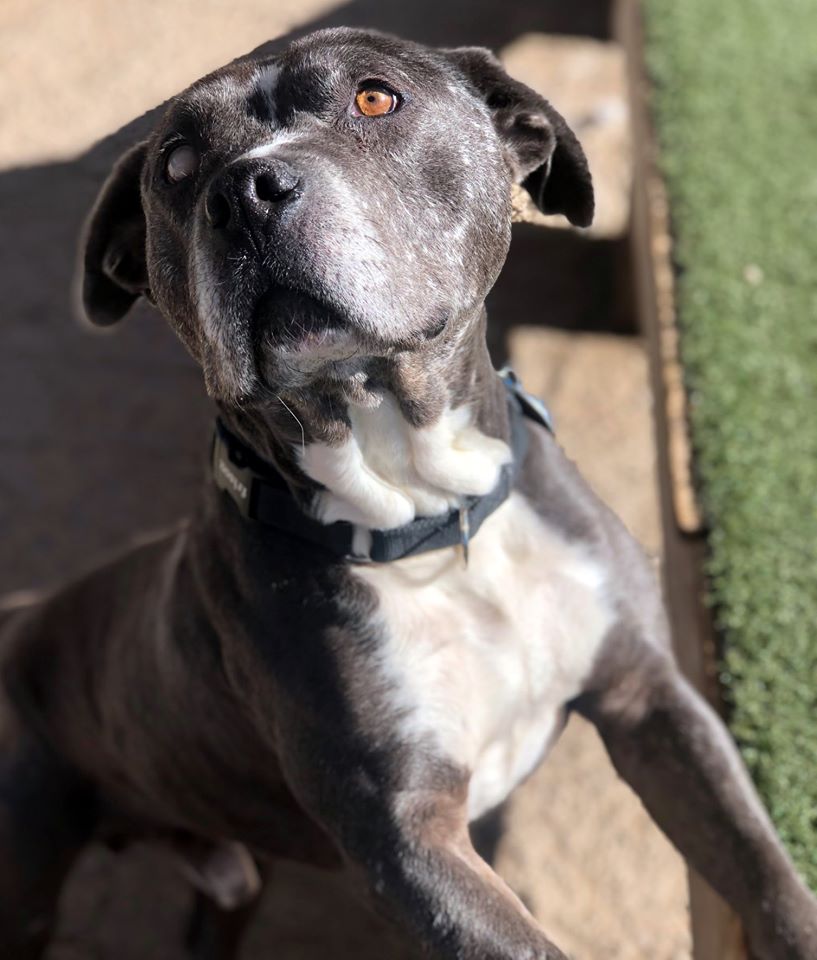 Around Thanksgiving of last year, we answered an urgent call for help from Valencia County Animal Control. This sweet 9 year-old boy was taken into custody from the end of his chain: cold, emaciated, desperate for help. Pilgrim was covered in fresh, as well as scabbed over and older dog attack wounds and lacerations on his head, face, ears, neck, throat, forearms, hind legs and inner thighs. He suffered previous trauma to his right eye which has resulted in loss of vision, and he is missing a couple of canines combined with severe periodontal disease. We made our commitment immediately and within the hour, he was on his way to our vet. We are so grateful for the partnerships between NMDOG and Animal Control Departments across the state and we are so grateful to Valencia County for being Pilgrim's voice! Pilgrim's cruelty case is making its way through the judicial system. The responding ACO, as well as the Director of NMDOG, will be in court to testify on his behalf. You can read Pilgrim's original rescue story and see more pics on Facebook.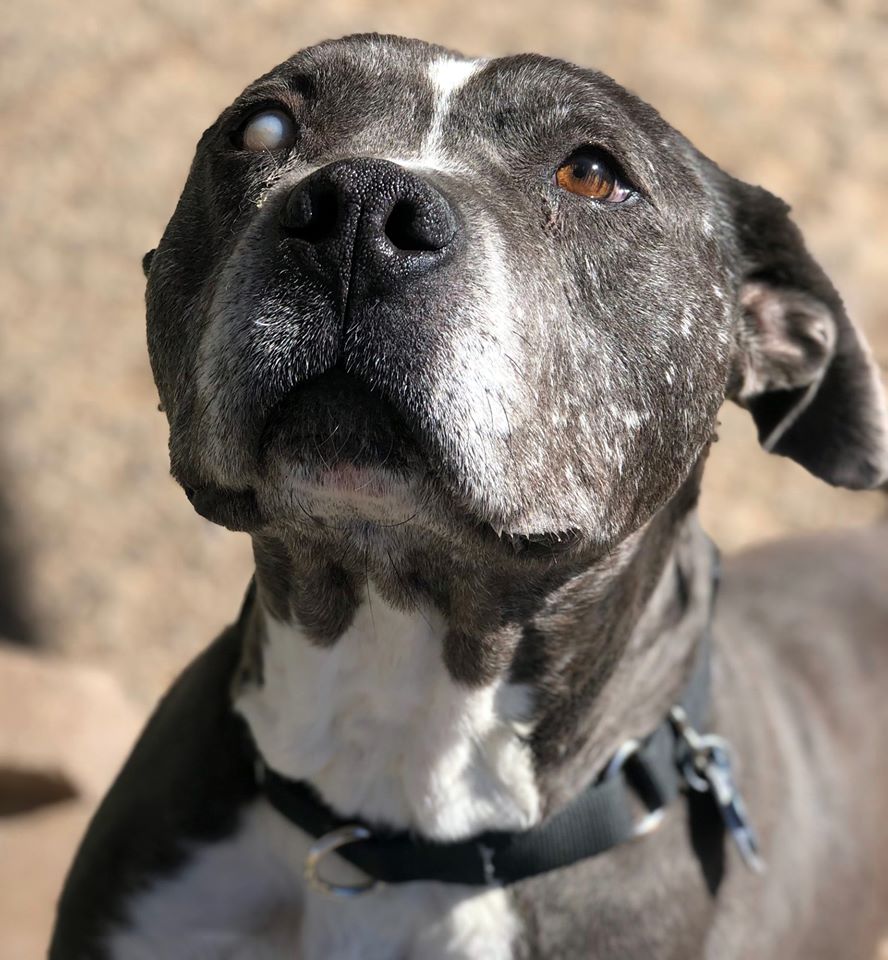 Since entering the NMDOG program, Pilgrim has made a heartwarming recovery!! He underwent weeks of treatment for the tick-borne blood diseases that ailed him, he was placed on a careful weight gain diet and now weighs a solid 70lbs. That's a great improvement from his original 52lbs upon intake. Pilgrim has been neutered and he has an upcoming appointment with the doggie dental specialist! Pilgrim has learned that not all people are scary, he has learned that nutritious food comes twice a day, every day and he has learned that he looooves yummy treats, playing fetch and big squishy gel squeaky toys! Pilgrim has learned that he will never be cold or forgotten again. He has learned how special he is and that many people love and adore him. Pilgrim is having a blast learning about all of the things he never had before and he is ready to take the next step of his NMDOG journey: onto a Foster or Forever home.
Because of Pilgrim's so called previous "life" at the end of his chain and how badly he's been treated by other dogs, we are seeking a home for Pilgrim as an only dog, where he can spend his golden years as the center of his adoring family's attention. Pilgrim is great with all humans, he is learning how to walk politely on his leash + harness, he rides well in the car and he loooooves to snuggle up close while being told how stinkin' handsome he is. Pilgrim has overcome many years of trauma and abuse, with his big ole LoVeABull heart still intact and he has conquered all of the odds once stacked against him. Pilgrim is ready to start living life to the fullest as a treasured member of a very lucky family.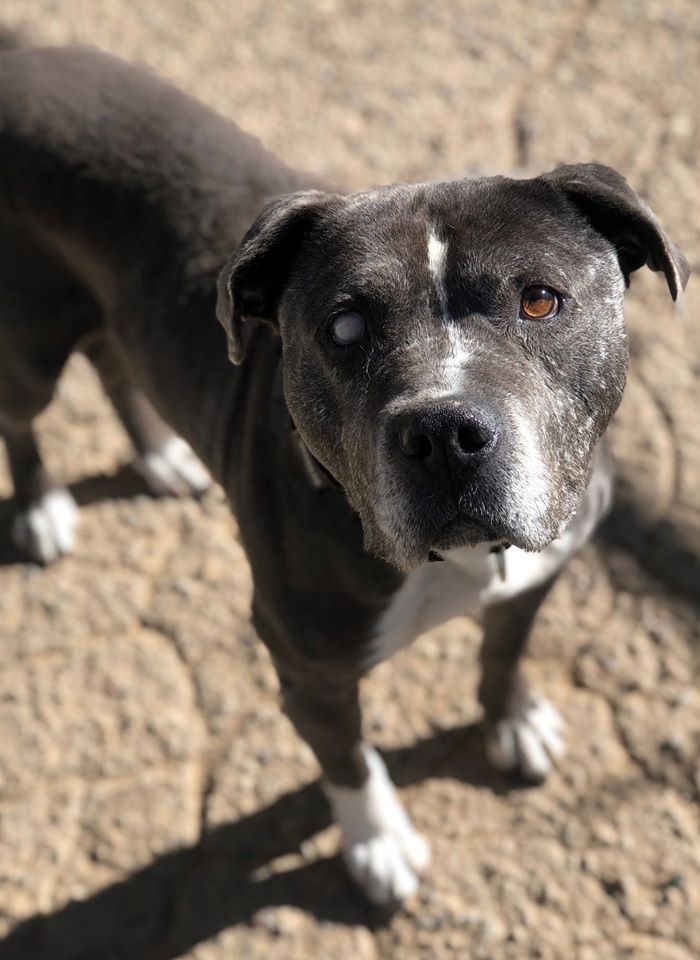 If you are interested in adopting Pilgrim, please submit an adoption application. If you are interested in fostering, please submit a foster application.