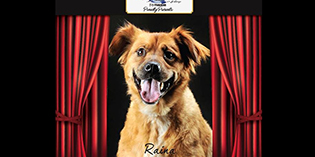 April's Quality Mazda NMDOG of the Month is Miss Raina! Raina is one of the happiest dogs we have ever met. In fact, during the years Raina was an NMDOG Outreach client, we called her the "Happiest Outreach Dog ever"! NMDOG Outreach consists of providing a better solution for community dogs —other than chaining them up—and consists of providing our assistance to better the life of a dog by providing supplies, provisions, medical care and ongoing support, even if we are not able to secure a surrender. Raina was a chained pup when we first met her and we built a lasting relationship (and impression) with her guardians over the years. When Raina first crossed our paths, she was only three months old, chained up to the axle of a broken down parts truck. This is no life for any dog, so we got to work! We built Raina a safe, fenced in area and provided a shade structure and doghouse with insulation, to protect her from the elements. We also provided spay and microchip, along with yearly vaccinations, heartworm testing and monthly preventatives. We supplied her guardians with food, toys, grooming services and more over the years. We remained a constant in Raina's life, visiting her every day, socializing her and making sure she remained "The happiest Outreach dog ever". Fast forward and Raina was finally released to the legal custody of NMDOG where she would now have the chance to find a real home, inside, as part of a family and she is ready!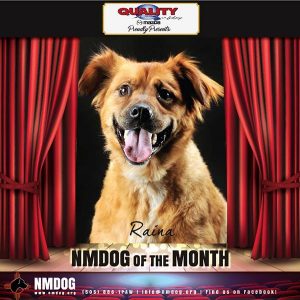 Raina is a five year old Chow mix. She weighs appx 55#, she gets along great with all other dogs she meets, is good with cats and horses! Raina loves all people: women, men and children. She will make someone very lucky when she gets adopted! We are seeking a home for Raina where she can get all of the love and companionship her sweet little heart desires. Raina likes to play, she enjoys walks along the river and she knows the value of a quiet night at home, relaxing with those that she loves. She's super snuggly, super silly, super smart and super duper sweet! Raina has been a part of the NMDOG family for years and we want the very best for her. If you are interested in adopting NMDOG Raina, please visit our website and submit the ADOPT application.www.nmdog.org
Remember: for every new car sold off of the Quality Mazda lot, they will donate $50 to NMDOG. So stop by the dealership or pop onto their page and show them some love. Thanks QM!! WooF!