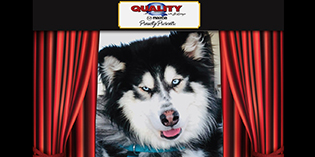 Our November 2020 Quality Mazda NMDOG of the Month is Roadie. Thank you to our partners at Quality Mazda, for their generous monthly donation and continued support of NMDOG!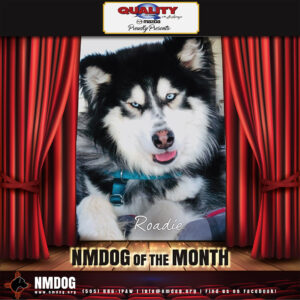 We will be at the Lomas Quality Mazda location on Tuesday 11/17/20 from 1-2 pm for Roadie's socially-distanced showroom meet and greet!!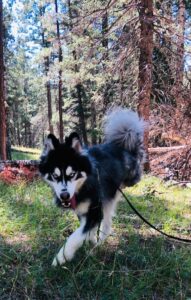 Roadie is a 2 year old Wooly Husky Tripawd with a yearning for fun outdoor adventure and a safe, cozy home with a family of his very own!! Roadie made his way to NMDOG after a Good Samaritan found him tied up to a guardrail along a deserted highway in the southern part of the state, with a broken hip. The finder reported Roadie to local Animal Control, placed ads in the local paper, posted on social media–all with no response. Unable to keep Roadie and provide for his urgent medical needs they reached out to NMDOG for help. Roadie landed in the care of NMDOG earlier this year, saw multiple doctors regarding his orthopedic needs and even had an FHO procedure in an effort to save his leg. Unfortunately, the FHO didn't take and, ultimately, Roadie's rear leg had to be amputated. But that doesn't slow Roadie down. Not one bit!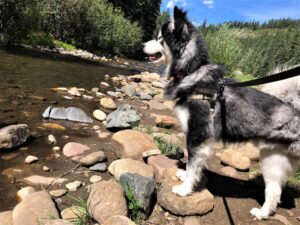 Roadie is looking for an active home that will fill his need for adventure, while understanding the need to protect the integrity of his remaining legs. Roadie would prefer to be the only dog in the home, but he may welcome the idea of a silly little sister pup. No small furry creatures for Roadie (except for his squeaky toys). If it squeaks, runs or flies, Roadie will chase it! Oh, and hang on during walks: BUNNY!!! and you're off!! Roadie is snuggly and sweet but he is all Husky Diva attitude, so breed experience is a plus.
If you are interested in adopting NMDOG Roadie, please read through the adoption process and submit an adoption application. Roadie is also looking for a foster home. Interested? Fill out a foster application.
NMDOG is in dire need of more foster homes. We have no public facility and we depend on the amazing hearts of our Foster Guardians in order to save more lives! It never costs money to foster for NMDOG: we take care of every expense; you provide the safety and the love. When an NMDOG is in foster care, it gives them experience living inside of a home for the first time ever and helps set them up for a successful adoption. NMDOG also provides training and 24/7 on call support to all of our treasured Foster families. More info on becoming an NMDOG foster.