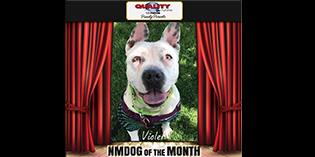 Our very first Quality Mazda NMDOG "Quality Dog of the Month" is Violet. (Violet is also Miss March in our 2018 calendar!)

Violet was chained and abandoned in northern New Mexico. She was saved with her chain-mates by NMDOG and our sister rescue The Animal Welfare Coalition of Northeastern New Mexico. Violet has made a full recovery and is now ready to find the forever of her dreams as the only pet in the home! Violet is three years old, weighs around 40lbs, and is just about the most AdoraBull little Pocket Pittie you've ever seen! Violet is a graduate of NMDOG obedience class and she looooves to learn! She walks great on her leash and harness, rides perfect in the car, is crate-trained and house-trained. Violet is going to make a wonderful companion to a very lucky human! Contact us today to learn more about adding Violet or any of our amazing adoptable dogs, to your family!
Don't forget to stop by the Quality Mazda page & thank them for their LoVe of Dog!