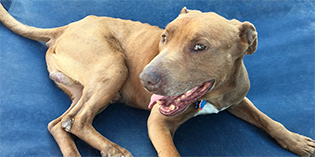 NMDOG Robbie spent ten (10!) agonizing years on his chain. He was emotionally shut down, emaciated, and starved for attention. Robbie also suffered from untreated Heartworm disease. Then, one day, his people decided they could no longer take care of him, so they took Robbie and his wee 'lil sis Raisin to the Valencia County Animal Shelter. We are grateful they were able to make this realization, but only wish it would have come sooner. The good folks at the shelter reached out to us for help, and NMDOG answered the call. Little puppy Raisin was treated for mange, gained some weight, learned how to trust, and took the next step of her journey with our friends at Animal Humane New Mexico to find the forever home she deserves. Robbie stayed with us to continue his own journey: a long road of emotional and physical recovery. Robbie is doing great these days. Slowly but surely he's gained 10 pounds since intake, sleeps on soft cushy beds, eats multiple nutritious meals each day, enjoys lots of love, attention, and the affection he was denied for so long. We are prepping Robbie for HW treatment in the hopes that his frail body will make a full recovery… We have high hopes!
Robbie has a heart of gold and a temperament to match. He is very good around other dogs, though he can't interact with them right now due to his condition. We are seeking a wonderful, quiet, attentive foster home to see Robbie through HW treatment so he can continue his road to recovery. There is never a cost to foster an NMDOG and you will receive the full support of the NMDOG TEAM. Please consider giving Robbie this very special gift, a gift to make up for all he did without for so long. Send us an email today and we will take care of the rest.
Today, Robbie has a smile on his face. Likely for the first time in his entire life. That is the Power of The Village! Please consider a tax deductible donation to NMDOG to help us continue to make Forgotten Dogs smile!