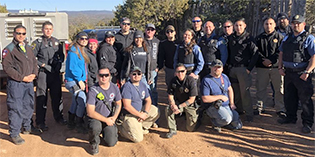 Earlier this month, in partnership with our sister rescue, the Animal Welfare Coalition of Northeastern New Mexico, we were called on to assist the San Miguel County Sheriff's Department in the execution of a warrant on a large scale hoarding and cruelty case. We were given 24 hours notice, and as a result of our collaborative efforts, we were able to respond swiftly and with great success!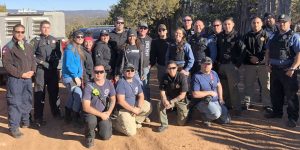 The day of seizure included seven different organizations and government agencies: The San Miguel County Sheriff's Office, City of Las Vegas NM Animal Control, San Miguel County Fire & Rescue, San Miguel Coounty/City of Las Vegas Office of Emergency Management, Bernalillo County Animal Care and Resource Center's emergency field response Officers, The Animal Welfare Coalition of Northeastern New Mexico, and NMDOG. A total of 47 animals were removed from the location. 911 medical care is being provided, and the animals are being cared for compassionately in protective custody by NMDOG and the AWC.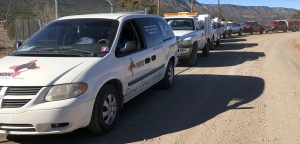 We are incredibly grateful to San Miguel County Sheriff Chris Lopez and Under-Sheriff Mike Padilla. In less than 30 days after being appointed, they chose to take the ongoing issue of animal cruelty in their county seriously. To say this event was groundbreaking for animal welfare in San Miguel County, would be a huge understatement. It still seems somewhat surreal. But there is no mistake when you look into the eyes of these deserving animals that it is all very real and tangible. It has been overwhelming, but with one common focus it is possible to make anything happen!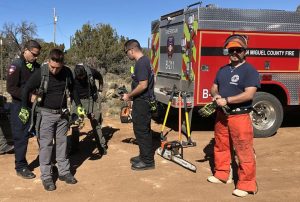 Please understand and respect our need for discretion: we will update on the case as we are able, I promise!
All of the live animals are currently being supported with AWC and NMDOG funded resources, as all necessary steps are taken to collect, document, and preserve evidence. If you are able, please consider a tax deductible donation which will go directly to the care of these animals in our ongoing efforts to fight neglect, animal abuse and cruelty. Without the involvement of these non-profits, this undertaking, and the careful consideration for the animals would not have been possible. We are funded solely by those who support our efforts. Taking on a case of this magnitude stresses the already limited resources of the AWC and NMDOG. We simply cannot do this important work without you. Together, we are making a real difference.
Please donate if you are able. You can donate online, or by sending a check to NMDOG, 9445 Coors Blvd NW #171
Albuquerque, NM 87114. Note "San Miguel Co case" in the memo line. Thank you!!
For media inquires, press release information or simply to send an email of your support and appreciation, please contact Under-Sheriff Mike Padilla with the San Miguel County Sheriff Department directly: mikep@co.sanmiguel.nm.us.