Savannah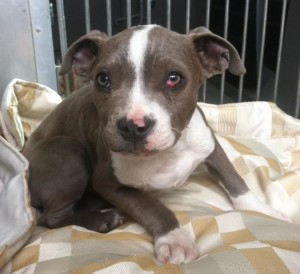 Little Puppy SAVANNAH was picked up by Bernalillo County Officer Nelson & NMDOG was called to take her in so she could receive the medical care she needed & be ensured a wonderful future.This wee little pup was found by the neighborhood UPS man in Albuquerque's North Valley….just wandering the streets, all alone 🙁 Definitely no place for any puppy to be! We have no idea how she ended up in the situation she was in & no one ever came to claim her, so now she is the newest member of the NMDOG pack! We are thankful to those that had a hand in getting her to safety & have made a promise to her to provide her with all she needs! SAVANNAH is currently in the care of one of wonderful foster guardians & is well on her way to a wonderful life!
SAVANNAH will require surgery to repair her cherry eye, xrays for her little broken tail, spay, deworming, microchip, HW meds & vaccinations. Your donation will help us provide for all of her needs & continue to be there for the next one that needs us! We are accepting applications at this time for SAVANNAH, but she will not be available for adoption until late February 2013. NMDOG is not a first come, first serve rescue…we strive for optimum placement of every one of our dogs & will screen applications accordingly. To submit an application, please send your inquiry to adopt@nmdog.org WooF!
There are many ways you can donate to SAVANNAH & to NMDOG! Go to the chip in link included in this note, or make a secure online donation via PayPal OR…you can mail in a check donation to:
NMDOG
7820 Enchanted Hills Blvd. ste A-112
Rio Rancho, NM 87144
If you would like to call in a donation directly to the clinic, please call Good Shepherd Animal Clinic (505)884-3200 & tell them it's for NMDOG & SAVANNAH!!
This is another example of the life saving work that is a result of the great partnership between NMDOG & BCACS!
It only takes one person to throw an animal away, but it takes an entire VILLAGE to give them a new LIFE! Thank you for being a part of the our VILLAGE!