Sven
Meet SVEN, a young little Min Pin that was seized in a cruelty case when his people were arrested on 2 counts of animal cruelty – failure to provide vet care. Reports came in to BCACS & BCSO about a location in the Abq South Valley housing multiple dogs, some injured, some wee pups & others in compromised condition….without the proper provisions or permits required to "act" as a rescue. A litter of pups & their mama dog were seized, as well as this sweet guy, SVEN. The others were returned to their originating shelter & NMDOG was asked to take custody of SVEN. This was a case of lack of responsibility, accountability & due diligence on the part of those entrusted to act in the best interest of the animals. Animals were placed carelessly & desperately by a shelter volunteer into a sub standard "foster home", with absolutely no provisions in place to provide the medical care these babies needed. It is one of those situations that we speak out against so very often….."rescuing" without a plan & one that resulted in cruelty charges & the animals being taken. I cannot speak for the shelter or the outcome for the other animals, as NMDOG was not involved in that aspect of the case…..I only know that they were returned.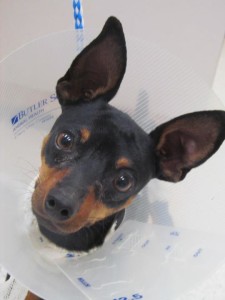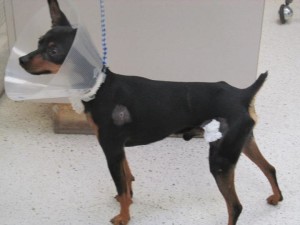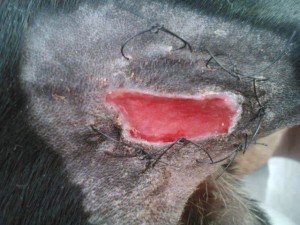 SVEN, on the other hand, was pulled independently by these "fosters" from a boarding facility in Valencia County, injured, in need of medical care & provided none 🙁 His wound was left dirty, infected & to cause him great pain. So much so, that when he arrived at the Evet, they were unable to suture it closed. In order for SVEN to avoid going to the city shelter, NMDOG was asked to take custody of him & continue to provide him with the medical care he needed, so we did. Now we are asking The Village to help us cover the expense of this unexpected rescue. Once SVEN receives his medical clearance, he will be transferred to an NMDOG approved group for placement. But for now, he is with us & his bill needs to be paid. Hospitalization, meds & daily bandage changes are required & NMDOG does not have an appropriate foster home available for SVEN, so he has been in the care of our amazing Good Shepherd Animal Clinic TEAM since we took custody. We feel he will be ready for transfer next week. Our intervention has provided SVEN with not only the medical care he required, time to decompress after his ordeal….but also the guarantee that he will end up in a GOOD PLACE this time around.
Please consider making a tax deductible DONATION to help us offset this expense, so that we can continue to help those that need us the most….dogs like SVEN & so many others in desperate need of intervention. The chip in link is included in this note…where you can make a secure online donation via PayPal. Or….you can visit our website www.nmdog.org to make a secure online donation, call a payment directly into the clinic with your credit card ~
Good Shepherd Animal Clinic (505)884-3200…..or mail a check made payable to:
NMDOG
7820 Enchanted Hills Blvd ste A-112
Rio Rancho, NM 87144
From SVEN, all of us at NMDOG & the many dogs we serve….thank you for your ongoing support!! Without YOU, we are nothing!!
for the LOVE of DOG….
Angela ~ NMDOG Presiddent/Director
Updates on SVEN's transfer will be made available as they come! WooF!!!