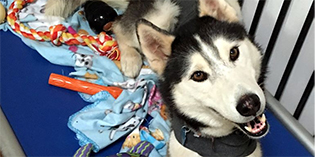 Tripp was as a stray from the South Valley. He was microchipped so we thought "yay he has a home and they must be missing him"! But when we contacted the registered guardian on the chip, they denied ever having a dog. In the spirit of due diligence, I did a google maps search of the address and low and behold: there is Tripp right there in their yard on the google maps image! So, we called them back with this info and they admitted that yes, he was their dog but they "didn't want him anymore." Poor Tripp: adopted from the City shelter in 2014, now abandoned by his people in 2018. Our initial intention was to transfer Tripp to one of our partner Husky Rescues, but that is not in the cards for Tripp at this time because he has now tested (+) for both Heartworm and Lyme disease.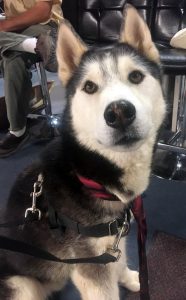 Tripp is now a member of the NMDOG pack, where he will receive the medical care he needs and a promise never to be abandoned again. We have started Tripp on preparations for the intensive treatment he will need to kill the heartworms, as well as treatment for Lyme disease—both very preventable and potentially fatal if not treated. I guess you could say it's a blessing TRPP didn't go back to his people since they weren't taking care of him to begin with. Tripp is a five year old Husky and he weighs only 39lbs (He should weigh around 55lbs for optimum health). His treatment will be lengthy and there are strict activity restrictions that come with it. He will suffer some discomfort during treatment, but as long as everything goes as planned, he will make a full recovery and will be available for adoption once he receives a full medical clearance.
In the meantime, we are seeking a heatworm-treatment foster home for Tripp so he can recover in the comfort of a home environment. There is never a cost to foster for NMDOG: we provide all they need; medical care, food, supplies, training if needed and the 24/7 support of the NMDOG team! Please email us right away if you are interested in becoming Tripp's lifesaving Foster Guardian.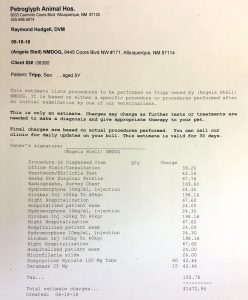 Tripp's treatment is going to be very expensive. Heartworm treatment alone can easily cost $1500 including medical boarding, bloodwork, X-rays, medications and the actual injections themselves. That, along with the ongoing care he will require while undergoing treatment while waiting for his medical clearance for adoption, will add up. NMDOG is an all-volunteer organization. We rely solely on donations from those that support our work—to provide these once Forgotten Dogs with all they need to become whole and happy again! Without NMDOG, so many of these precious souls would continue to suffer. Many would die.
To make a tax-deductible donation to help us pay for Tripp's care, use the DONATE button on the right-hand side. For those that prefer to mail a check, our mailing address is: 9445 Coors Blvd NW #171,
Albuquerque NM 87114. Care packages for Tripp can also be mailed to this address.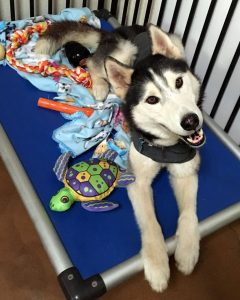 Thank you for being the best Village and for always enabling us to provide the very best of care to those that need us the most <3 We can't do this important work without you!