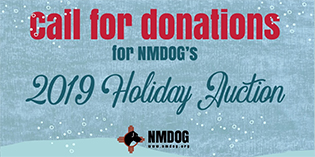 Call for donated items & services to be included in this year's NMDOG Holiday Auction, which will run live on Facebook from November 13 to 20, 2019! We are seeking any new and/or gently used items such as pet supplies and novelty items, jewelry, art, gift certificates for activities, services and goods…or anything you think would generate much needed funds to help us continue our work for the chained, abused and Forgotten Dogs of New Mexico.
If you have an item to donate, please send an email to: Merrie@nmdog.org – Merrie will discuss drop off or mailing options and issue your in-kind donation receipt! Deadline to submit donations are Sunday 11/3.
Please SHARE and ask your friends if they would like to donate too! 100% of the proceeds from the auction will go to provide medical/behavioral rehab and housing for the kiddos in our program.