Dog Houses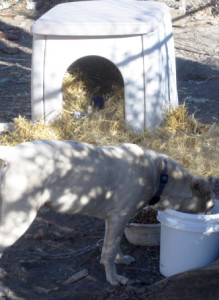 NMDOG is currently reaching out for donations of new or gently used dog houses for outreach missions! It is freezing outside and many dogs across the state do not have warmth or shelter…this is where NMDOG Outreach comes in. If you have a doghouse to donate, you can drop it off at one of the locations listed below. The more doghouses we can provide, the more dogs we can help survive the winter.
Check out what we actually do with the donations you provide!
If you are not able to drop it off, please contact us so we can arrange a pick-up!
DOG HOUSE DROP-OFF LOCATIONS

LAS VEGAS AWC ANIMAL SHELTER

1700 North Grand, Las Vegas, NM
(505) 426-3289
Tuesday – Friday 10:00am – 6:00pm
Saturday 10:00am – 4:00 pm

KIMBROUGH-CARPENTER

9212 Trumbull Ave SE, Albuquerque
(505) 237-8479 or (505) 237-1146
Monday – Friday 7:30am – 4pm
CALL FIRST BEFORE DROPPING OFF DONATIONS!

CHE BELLA SALON

1925 Rosina St., Santa Fe
(505) 982-7420
Tuesday, Wednesday, Friday, Saturday 10:00am – 6:00pm

Animal Humane New Mexico

615 Virginia SE, Albuquerque, NM
Daily 10 am – 6 pm
(take dog houses to the "Quonset House" on the north end of the property)

PETROGLYPH ANIMAL HOSPITAL

6633 Caminito Coors NW, Albuquerque, NM
Monday – Friday 7am – 10pm
Saturday and Sunday 8am – Midnight

CORONADO ANIMAL HOSPITAL

4192 Highway 528, Rio Rancho
Monday – Friday 8:00 am – 8:00 pm
Saturday 8:00 am – 4:00 pm