Wrangler
Just a PUP! His chain weighed more than half of his total body weight…
July 12, 2013
The call came in from BCACS…they had just taken custody of a sweet little guy that really needed our help! In cases such as these, if NMDOG is not able to take the dog into our program they are impounded to the local shelter. Currently there are 547 dogs in the City of Abq animal shelter. NMDOG answered the call. I met the officer at the County office, signed my paperwork & met the sweetest of all chained dogs. We named him WRANGLER. Our guess is that WRANGLER is an appx 8 mo old Coonhound/Lab mix. He was born as part of an unwanted litter of S Valley pups & given away way too early "free to a good home". Who knows what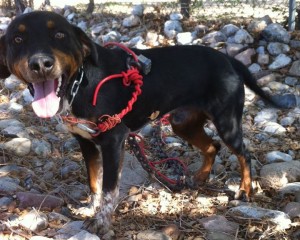 WRANGLERS life consisted of for those 5 or so crucial months, but he found his way back to his birthplace when his people could no longer care for him. He was then placed on a ridiculously heavy chain, twisted with cable wire, with a tow hook on one end, that was attached around his neck with a padlock. He "lived" day in & day out on hard hot rocks…shaded only for a portion of the day. He was given little enrichment if any…& very little human interaction. But seeing WRANGLER today you would never know that!!! He came through his ordeal with his spirit fully intact and ready to begin his new LIFE!! WRANGLER has already received all of his vetting. He has passed his temperment tests with flying colors!! He has received a full medical & behavioral clearance for adoption & is currently participating in the Camp Bow Wow foster dog program!!
Contact us today to arrange a meet & greet with WRANGLER in your home or make an appointment with the Crew at Camp to meet him there (505)881-3647. To get the NMDOG adoption process started, fill out the adoption application.
WRANGLER is a GREAT DOG that is ready to go HOME to a great family!!