*DONATIONS MATCHED!* NMDOG Zip Von Whiskey (aka Zeke, the Zipster, Zippy Zeke) came to us in just the nick of time. Barely escaping his tether, euthanasia, a plethora of ailments, and currently undergoing Heartworm treatment his will to survive is amazing! We have pledged to be there for him every step of the way. All Donations toward his care, up to the first $1200, will be MATCHED dollar for dollar by a wonderful anonymous donor! Read Zipper's full rescue story below.
THE STORY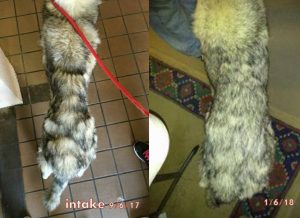 In August of 2017, Zip Von Whiskey was picked up by Bernalillo County Animal Care Services as a stray in Albuquerque's South Valley. He was found dragging a tether, emaciated, filthy, missing clumps of hair, very sick, and barely able to walk. Typically, when a dog like this comes into BCACS, we are immediately notified so we can pick them up and the dog can receive the lifesaving care they need. Due to a confusing string of events, Zip Von Whiskey was instead transferred to the Aztec Animal Shelter. He was immediately slated for euthanasia due to his extremely bleak condition. As fate would have it, I stumbled across his late night urgent Facebook plea from an Aztec shelter volunteer. I reached out to them right away and it was then, that I discovered he was originally transferred in from BCACS! We are still not sure how he managed a transfer in his condition, but clearly, he was now being given a second, even a third chance!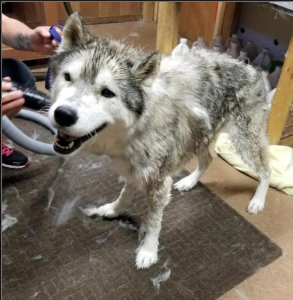 So, we made arrangements to get him back to Albuquerque and to NMDOG where he belonged. A wonderful senior foster home was secured and he was taken to the clinic for initial assessment. This poor dog! Zip Von Whiskey weighed only 46.8#, his skin was oozing and infected, his fur was icky and crusty. He had a fever and difficulty breathing. It was clear he had not been cared for in a very long time, if ever. We stabilized him with IV fluids, took X-rays of his chest, and administered a 4dx test. It came back (+) for Erhlichia so we began treatment and settled him into foster as soon as he was able to leave the hospital.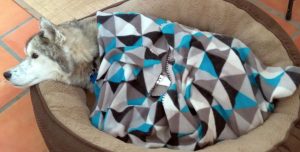 As the days and weeks went by we just couldn't seem to get a handle on his poor condition, so we explored further diagnostics, including a dermatologist. We sent in skin biopsies, did allergy testing, prescribed new abx and more. Still he did not seem to improve. So, we started back at the basics, and administered another 4dx test. This time, the results came back (+) for Heartworm disease (concluding that the original test done upon intake resulted in a false negative)! So we did it again and confirmed it: Zip Von Whiskey had heartworm disease. Apparently, this had been the root of the majority of his issues all along. The lesions, crusty skin, infection and oozing = Heartworm Dermatitis! Sigh. GREAT NEWS!! And never did we think we would ever say that about Heartworm disease… but now we had something super solid to go on and began our Heartworm protocol. Granted, HW was only one of Zippy Zeke's many underlying issues, but until we got a handle on that, nothing else was going to fall into place. It was then that we began to see improvement.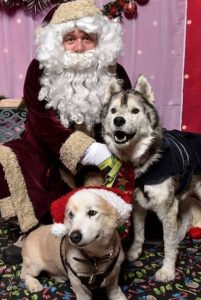 Fast forward 6 months, and Zeke (affectionately named by his foster family) has just completed phase one of HW treatment. Last week he received his first Immiticide injection and so far so good… he's handling it like a champ! This dog—it's hard to put into words the amount of resilience, will to live and overall fight he has in him. For a little bitty senior Husky boy, he's sure got the heart of a warrior lion! "Rawrrrr"! There are also no words for how wonderful his foster family has been—Mom, Dad and Grandma—making Zippy Zeke whole again has no doubt been a family affair.
We have every reason to believe that with the progress The Zipster is now making, that he will have a happy, healthy, life full of love from now on! He is tolerating HW treatment very well, his lungs are no longer congested and the cough is almost gone. His skin is all cleared up and he now has a soft, full, luxurious coat of Husky fur that he can't wait to show off once his activity restriction is finally lifted. He is so cute and he has the most adorable little prance. Zeker has approximately another 6 weeks on the down low, then: watch out world!! Because he will be ready to go 🙂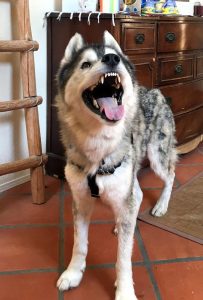 The cost of Zip Von Whiskey' medical journey with NMDOG has been incredible, but then again, that is why we are here: to give these Forogotten Dogs the chance they truly deserve at the very best life they can live. To our Village, our supporters: this is where you come in. We cannot do this lifesaving work without you; it's just not possible. And without NMDOG, where do these precious, desperate SoulDogs go?
Here is the financial breakdown, just for Zeke's medical care to date, alone. (This does not include special food that he has to eat due to allergies or the plethora of medications he's been on. Nor does it include monthly HW preventative or any of his care supplies.) In order to continue to do the important work that we do, we must recoup on his medical bills so that we can provide the same level of care to the next one, and the next and the next, because the need is never ending.
Good Shepherd Animal Clinic = $1340.79
Dermatology Specialist = $409.20
Petroglyph Animal Clinic (including HW tests) = $3221.83
total = $4971.81
Zippy Zeke's foster family generously covered an additional $953.98 in cost and plan to kick of this fundraiser with another donation of $300!! Such incredible humans. They just love him and want him to be healthy sooo much…
BONUS!!! A wonderful anonymous donor has offered to MATCH all donations in this fundraiser UP TO THE FIRST $1200!! That's amazing and we are so grateful!
(all invoices are available upon request – info@nmdog.org)
Village….can you please help us by making a much needed, tax deductible donation towards Zip Von Whiskey's medical care today?
You may also call a payment in directly to Petroglyph Animal Hospital (505)898-8874 and tell them it is for NMDOG Zip Von Whiskey (aka Zeke).
Or, you can mail a check donation to:
NMDOG
9445 Coors Blvd NW #171
Albuquerque, NM 87114
We appreciate your support so much! Truly, it takes a Village to do this heart-wrenching work in the field. But when we all come together for the Love of Dog and these kids are provided with all they deserve, it makes everything ok. Because together, we are making a difference; one UNchained dog at a time.
Thank you, for helping us help them.