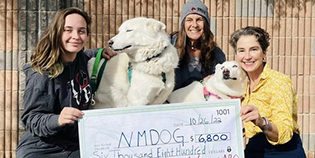 When we were notified by 100 Women Albuquerque that NMDOG had been chosen as their 3rd Quarter charity, I was humbled and moved. The inspiration and fellowship within this diverse group of local Women really made me feel proud that our group was selected. Never in my wildest dreams did I IMAGINE we would receive such a large donation to help with our continued efforts for chained dogs across the state of NM. And I have learned that there may also be a 50% match on the horizon which could increase the total to over $10k!! AMAZING!! #MindBlown
THANK YOU to these generous, fierce, talented, and passionate women for seeing the value of our All-Volunteer work, and for contributing to the success we strive for each day. It was such a treat for NMDOG Roadie and I to attend the event and meet so many of you in person. All of you ladies are seriously cool!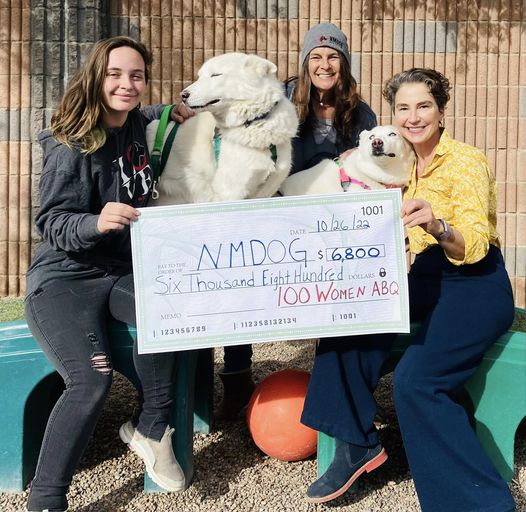 Thank you! Thank you! Thank you!! A million times, thank you.
***posing with the humans are NMDOG bonded Huskies GoGo and James Bond. They are available to foster or adopt as a pair. Fill out a Foster Application or an Adoption Application and know that our adoption fees are waived through the end of the year!
For more info on this awesome grass-roots group of empowered women, check out their Facebook Page or visit their website.
To donate to the ongoing fundraiser for NMDOG, visit click the 100 Women Albuquerque fundraising page on Grapevine.
They aren't even done yet…!