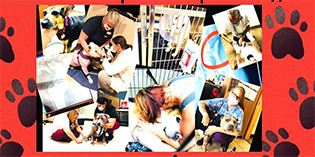 We need to raise funds URGENTLY to cover a loooong list of recent unexpected medical expenses for so many of our kids. This includes new NMDOGs who need specialty medical care coming in off their chains, current NMDOGs who are undergoing lifesaving medical procedures which will enable them to live their best lives un-chained. It also includes a handful of our Home Sanctuary kiddos who are always in need of specialty maintenance care (hence, the reason they are in Home Sanctuary to begin with) AND a couple of NMDOG Alumni who need to lean on the lifetime support we promise each of them and their amazing families. A promise is a promise and at NMDOG we always keep ours!!
Below is a basic breakdown, introducing you to some of the cases we are dealing with. More detailed, individual updates with pics, invoices, estimates, etc. will be posted on the Facebook fundraiser page as things progress!) So please stay tuned to our Facebook page to get the latest!!
---
PRINCE was scheduled for an orthopedic Tarsocrural Arthrodesis ($6k including post of shockwave, laser and PT) but he crashed out of nowhere before his appointment with a 106 degree temp. He spent a few days in ER for diagnostics and lifesaving treatment, to the tune of almost $3k! He is now undergoing treatment for infection overload and being quarantined while we await test results for Plague and/or Tularemia.
---
BRICK just had multiple masses removed (for the 2nd time since coming in a few months ago) and sent out for pathology! He's recovering now at HQ.
---
TITAN is one of our sweet little outreach Dogs—a senior who has been tasked with "service dog" duties for his beloved dad who is a traumatic brain injury survivor. He is scheduled for major dental work and mass removals with pathology! Cha-ching! Estimated cost: $800
---
ASTRO is part of our Home Sanctuary Program and he recently underwent expensive dental work including seven extractions, radiographs and a consult with the dental specialist as a result of recent issues and side effects from his autoimmune meds. ($1300!) He's been diagnosed with "tooth resorption" and will now need to see the specialist regularly. He is a regular at dermatology too…
---
HONOR (also a Home Sanctuary kiddo) also recently had a dental and non-invasive mass removals to stay on top of her Squamous Cell. She is also waiting to get on the schedule to have masses removed from the inside of her eyelids. Estimated total cost of her most recent care is $1800.
---
TESSA was recently un-chained and is undergoing a big surgery to remove mammary tumors and possibly her entire mammary chain(s). Including chest X-rays, senior bloodwork and pathology estimated at $1000.
---
Her son, DALLAS (also recently un-chained) has been undergoing treatment for embedded collar wounds and severe scarring, and is scheduled for suspected mast cell tumors and hemangiomas removal, including pathology. Estimated cost: $700
---
NMDOG Alum DISCO came to us after spending his life chained and being used for target practice on the Navajo Reservation. He was riddled with shrapnel of all different gauges and was adopted in 2018. Three weeks ago he was rushed to the hospital for loss of mobility and directed to ANIC for 911 care. After undergoing a CT scan, spinal tap and other neurological diagnostics it was determined that he likely had a stroke and he is now on his way to a full recovery—thank goodness. In the process of regaining use of his left side, he put additional strain on his right side which has exacerbated problems caused by a large gauge bullet still lodged in his shoulder area. We have pledged to cover the majority of these expenses so he can continue to live his best HAPPY life with his amazing family! Approximate cost for additional X-rays, scoping, tendon repair and potential bullet extraction (along with laser, shockwave and PT therapy post-op) is around $4500.
---
BRADLEY just underwent senior neuter with hemangioma removal to include pathology. Estimated cost: $400
---
ETHEL CARTER was just diagnosed with abdominal cancer and has now been placed into a palliative care hospice foster. (ultrasound, X-rays + other diagnostics: $300+)
---
ROADIE has an orthopedic consult next week due to possible stability concerns in his remaining rear leg. Consult at VESC is around $150 plus the cost of X-rays.
---
NMDOG Alum JEWEL recently had a life-threatening episode after getting into some suspicious green algae. Her senior dad was able to catch it very early on, and because of his quick call to us and the great care of our clinic partners she made a full recovery and is now back home! Cost = $860. You might remember JEWEL and her dad from 2020 when he was hospitalized with COVID and she stayed with us at HQ for weeks. We are so grateful they are both better now and together, where they belong.
---
I know there's more but that's off the top of my head. You can see why my head is spinning! This does not include ANY routine medical care, annual visits or intake/outreach spay/neuter. Ensuring that we have the ability to provide the care these kids need is my most important job and it's always stressful. But they are worth every cent and we wouldn't have it any other way! We cannot do it alone, though.
Please visit our 911 Medical Fundraiser on Facebook
and donate TODAY! 
If you are not on Facebook, but would like to donate, please use the DONATE button on the right-hand side of the page. If you can't donate but would like to help, we are ALWAYS in need of Foster Homes. This helps us save on boarding and frees up room for medical after-care at NMDOG HQ… We can't do it without you. Please help us help them in any way that you can!