About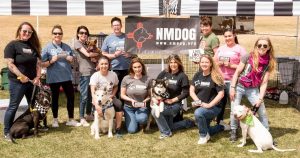 NMDOG is an in-the-trenches rescue serving the chained, the abused, the abandoned dogs of New Mexico. Headquartered out of Albuquerque, this small, 501(c)3 non profit, all volunteer, foster based rescue was established in 2010, touching the lives of thousands of dogs ever since. Reaching out across the state, our motto is "Whatever needs to be done to better the life of a dog, we will do it with Fierce Determination." Our Mission: To serve and protect New Mexico's Forgotten Dogs. Through our website and active presence on Facebook, NMDOG details the pursuit of its core goals: rescue, outreach and education.
Collaboration with law enforcement, other rescues and animal welfare organizations, businesses and individuals who support our goals has been a key component of NMDOG's success. NMDOG has been in the forefront of efforts to expand anti-tethering ordinances throughout New Mexico and we have been a key component in multiple high-profile cruelty cases across the state. NMDOG and its Founder/Director Angela Stell have been honored with many awards over the years, including the NACA Diane Lane Memorial Award, the NMHC Animal Advocate of the Year Award, the Petsmart Charities Collaboration Award, the Best of Burque "Bet Pet Rescue" Award, 2nd place in the Albuquerque Journals Readers Choice Award for "Best Albuquerque Non Profit," and "Best Place to Adopt a Pet," and was named an Albuquerque Business First Non Profit of the Year. NMDOG Co-Founder and SoulDog JoJo, was also honored as the APNM Milagro Animal Hero Award winner for his lifetime of service to chained dogs.
| | |
| --- | --- |
| | Video put together by Animal Protection of NM, when JoJo won the APNM Milagro Animal Hero Award in 2015. |
| | |
| --- | --- |
| | Video put together by Your Pet Magazine in 2020 |
NMDOG doesn't cut any corners when it comes to the care and placement of its dogs. When a dog enters the NMDOG program, they are guaranteed to receive the very best of care. This includes, at the very minimum, a full veterinary exam, spay or neuter, all vaccinations, de-worming, heartworm testing, and a microchip. Due to the nature of our work, many of the dogs NMDOG rescues need much more extensive medical care before they are cleared for adoption. NMDOG also provides behavior support and is diligent in every adoption, setting both the dog and the adopter up for success. A 7-week obedience class is included with every NMDOG adoption, and this training, along with the support of the entire NMDOG team, is available to every adoptive or foster family. "Once an NMDOG, always an NMDOG!" When you foster or adopt, you become part of the NMDOG family.
Browse the website to see what we're all about! View our available dogs, make a tax-deductible donation, submit a foster or adoption application, volunteer, view our wish list and explore many additional resources! Welcome to NMDOG.
---
Awards
Angela Stell, Founder & President, NMDOG
2017 NACA Diane Lane Memorial Award
2013 NMHC Animal Advocate of the Year Award
2017 Petsmart Charities Collaboration Award
Animal Advocate of the Year – 2013
New Mexico Humane Conference Guest Speaker – 2013 NM Humane Conference
"Outstanding Person In Rescue" 2010, 2011 HIGH DESERT DOG MAGAZINE
NMDOG Organization
2021 "Shining World Compassion Award" from Supreme Master Ching Hai in recognition "of your kindness, venturing to remote areas as an in-the-trenches rescue with a passionate determination to save as many lives as possible"
2019 Rio Rancho Observer Readers' Choice Award-Pet Adoption Top Three
2015 Albuquerque Business First Non-Profit of the Year Award Honoree
2015 Animal Rescue Site Shelter Challenge: 1st place winner – state of NM
2014 Animal Rescue Site Shelter Challenge: 1st place winner – state of NM
2013 Animal Rescue Site Shelter Challenge: 1st place winner – state of NM
2012 Animal Rescue Site Shelter Challenge: 1st place winner – state of NM
2011 Animal Rescue Site Shelter Challenge: 1st place winner – state of NM
JoJo – NMDOG Mascot
2015 Animal Protection of NM Milagro Animal Hero Award winner for exceptional Courage & Intelligence